"Say Amen (Saturday Night)" by Panic! At The Disco
Panic! At The Disco is a American pop rock band from Las Vegas, Nevada, and was originally comprised childhood friends Brendon Urie, Ryan Ross, Spencer Smith and Brent Wilson. However, Urie is now the only official member of the group as the rest have left and been replaced by touring musicians for live performances. Known for Urie's incredible vocals range and power anthems, the band's most well known tracks include "This Is Gospel", "Nine In the Afternoon", and "Hallelujah". The song "Say Amen (Saturday Night)" is the first single off their latest and sixth studio album, Pray For The Wicked. The song has reached number one on the Billboard Alternative Songs chart, a first for the band, and the music video has accumulated over 21 million views on YouTube.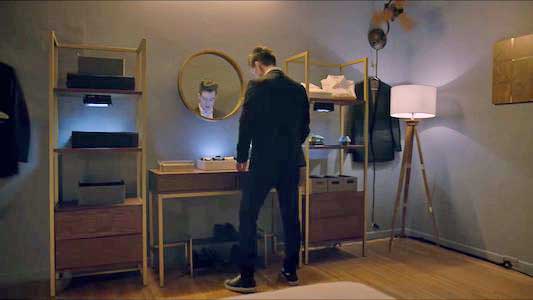 Brendon Urie wears black chucks in this music video.
The song has a very rapid and heart racing beat, which plays in well with the setting and story of the music video. It gives the song a quality similar to something you'd hear in an action movie like Mission: Impossible. The lyrics are about Urie's faith and religious upbringing, and compares how he feels a great love for his past but does not currently see himself as a religious person.
Don't get a speck of blood on Brendon Urie or his chucks..
The music video starts out with a news report saying that an ancient artifact called "The Devil's Key" was stolen, which then leads us to Brendon Urie's home. Some mystery men in masks have broken in and are waiting for Brendon as he gets ready to go out. We see here that not only is he wearing black chucks with his black suit, but that he also has the Devil's Key around his neck. Urie then goes full John Wick on this gang, cutting them down like they were made of paper. Blood splatters all over the room, but when Brendon emerges from the fight, he and his chucks are immaculately clean. He then bursts into the next room, and continues to massacre the gang in so many creative and violent ways. He finishes them off, and finally is able to meet up with his date. However, there's a twist as she is also going after the Devil's Key, and after a swift kick to Urie's groin, she takes it and leaves him unconscious. This video is a frenetic spectacular that perfectly fits with the song's rapid fire music and sinful lyrics, and is a must watch for it's creative use of gore and violence.
Bringing the house down on those who've broken into it.
| | |
| --- | --- |
| | If you have information about specific videos where chucks make an appearance, please contact us at mail@chucksconnection.com. |
Use the links below to get yourself a new pair of chucks for your next adventure.