"Corner Store" by Macklemore
Macklemore is a Seattle based rapper who is well known for his numerous collaborations with longtime friend and producer, Ryan Lewis. The duo rose to international fame with their breakout album, The Heist, which contained the mega hits "Thrift Shop", "Same Love", and "Can't Hold Us". After the release of their follow-up album, This Unruly Mess I've Made, the duo went on hiatus from collaborating with each other. Macklemore then turned his attention to his solo career, releasing the singles "Glorious" and "Marmalade" off his new solo album, Gemini. The song "Corner Store" is off that album, and features guest vocals from Dave B and Travis Thompson.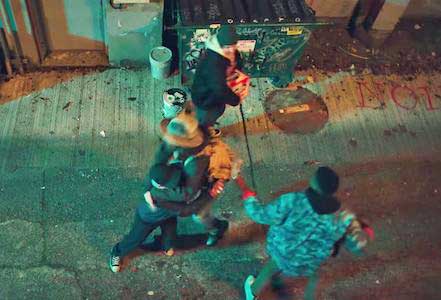 Travis and Dave's friend lovingly gets roughed up by Macklemore as he wears a pair of black chucks.
This song is an upbeat and bouncy hip-hop track that'll force you to nod your head to the beat. The theme of the song is reminiscing on past memories of being "posted at the corner store", "rollin' through the city", getting high off various drugs, and living without "thinking 'bout tomorrow". Mack, Dave, and Travis all touch on this nostalgia theme in their verses and hooks, and they all share a similar tone in how much easier life used to be. Their three styles mesh very well together, and they all fit this bouncing beat extremely well.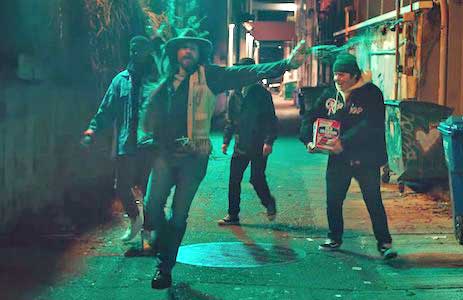 Mack, Dave, Travis, and friend roll through alleys having the best time ever.
The music video appropriately starts outside a corner store, where Dave B is leaning against a wall. Travis Thompson and his friend then meets up with Dave, and they all head inside. It's here that we see that Travis's friend (who is uncredited and not named) is wearing a pair of black chucks with his black duster. The group then runs through the store, eventually trying to buy a case of beer from Macklemore in old man makeup. Old Mack doesn't buy their fake ID though, and kicks them out. Another version of Macklemore (this one in vagrant garb) then walks into the store and buys the kids their beer. They then spend the night roaming the streets and alleys of the city with Vagrant Macklemore, drinking beer and pushing him around in an old shopping cart. However, the party is eventually broken up by a cop version of Macklemore, who chases the kids through the same streets and alleys they were just traveling through. They all make it home safely though, with Travis ending up at home with his mother who is also Macklemore. This is a very fun video, and keeps in line with the comedic and absurd tone of many of Macklemore's other videos.
"They see me rollin, they hatin..."
| | |
| --- | --- |
| | If you have information about specific videos where chucks make an appearance, please contact us at mail@chucksconnection.com. |
Use the links below to get yourself a new pair of chucks to wear to the corner store.