"I Love LA" by Starcrawler
Starcrawler is an American rock band hailing from Los Angeles, California, and was formed in 2017 when lead vocalist Arrow de Wilde first met guitarist Henri Cash in high school. They soon added drummer Austin Smith and bassist Tim Franco, and began recording music inspired by the classic rock acts of yesteryear. The band has already been hailed as "the future of the rock 'n' roll", following in the footsteps of bands like Kiss, Sonic Youth, and Joan Jett & The Blackhearts. "I Love LA" is the second single from their debut album, which is produced by Ryan Adams, and is unabashedly Los Angeles in both style and tone.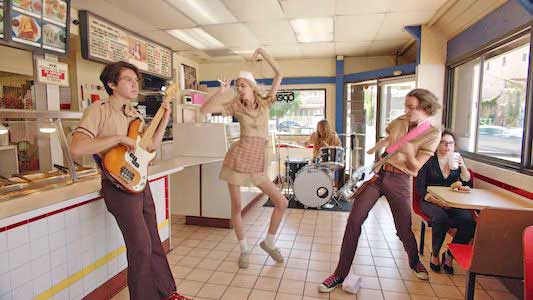 Guitarist Henri Cash wears black chucks with red shoelaces in this music video.
This song is pure American rock and roll. It features heavy, guitar riffs from Cash, and ethereal vocals from Arrow. Her voice is very reminiscent of Joan Jett, and it fits the driving rock sound so incredibly well. The lyrics are all about the City of Angels, with the chorus offering a simple, youthful ode to the city by repeating the phrase "I Love LA" over and over again. The guitar solo from Cash is loud and unapologetically in your face, perfectly representing the Los Angeles attitude.
Lead singer Arrow de Wilde oozes charisma.
The music video starts out in the parking lot of a classic LA donut shop, where the band Starcrawler is currently working. There's a van filled with every possible LA stereotype trying to order, but they get no response from the band inside. Arrow then clears out the restaurant and tells one angry patron, "Welcome to LA". This ushers in the music, as the band throw their own personal concert inside the donut shop. This footage is then cut together with footage of the band roaming around LA. There's also a scene where the band enters a wig shop, where there's a heavy focus on the wigs on display, perhaps paying homage to the big hair of 1980's rock. The song then gets to Henri Cash's guitar solo, and we see that he is wearing classic black chucks that are jazzed up with red laces. There's something perfectly LA about the image of a long haired kid wearing chucks while shredding it on a guitar. This video is a perfect tribute to the city of Los Angeles, and also shows why Starcrawler is a force to be reckoned with in the rock scene.
Rocking out to the annoyance of everyone around you is the LA thing to do.
| | |
| --- | --- |
| | If you have information about specific videos where chucks make an appearance, please contact us at mail@chucksconnection.com. |
Use the links below to get yourself a new pair of chucks to rock out in.