"Brand New" by Ben Rector
Ben Rector is a is an American singer, songwriter and musician based in Nashville, Tennessee. Originally from Tulsa, Oklahoma, Rector first gained some name recognition for the release of his self-titled EP, which went on to win the Grand Prize in the Pop category of the John Lennon Songwriting Contest in 2006. This allowed him to begin touring frequently while he attended college at the University of Arkansas, during which he played approximately 200 shows. Rector has continued to release his music steadily, including his biggest hit, "Brand New" in 2015. The song reached number 82 on the Billboard Hot 100, and was accompanied by a music video that has accumulated over 1.1 million views, which is no small feat for an up and coming artist.
Seven strangers spending the day together at a theme park is definitely a "brand new" experience.
The song is all about that feeling you get when you are in a relationship that feels new every day. It's that feeling you can only get when you are in a relationship that always surprises you and brings you something brand new. Ben has stated that he used his own relationship with music as inspiration for the song, saying that he wanted to make a song that was "effortless" and had the energy that "he felt when he first started making music". The music itself is extremely energetic, as it utilizes an echo chorus and a clap heavy beat that definitely adds to the feeling that this is all new and exciting.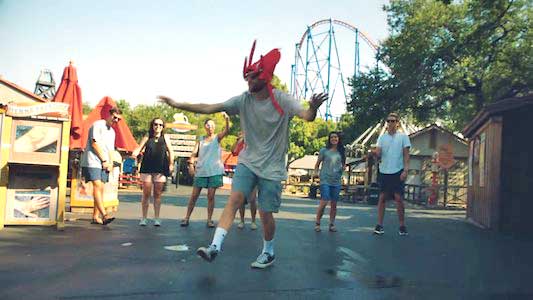 Chucks go perfectly with squid hats!
The music video starts with Ben saying that his label and management really wanted a video for "Brand New". He listened, but decided to use the video's budget on flying him and six fans to Six Flags Over Texas because, as he puts it, "rollercoasters". We then see how he picked the six fans (he held a contest on Twitter), and the group meeting up for the first time at the park gates. We see here that two of the people in the group are wearing chucks, with one wearing a classic black pair and one wearing a turquoise pair. The group then spends the day having the best time riding coasters and eating theme park food. Seeing seven strangers have such a genuine, fun time in each other's company is a sight that will bring a smile to your face, and it fits with the song's message about that brand new feeling you get from having new experiences.
Squad Goals.
| | |
| --- | --- |
| | If you have information about specific videos where chucks make an appearance, please contact us at mail@chucksconnection.com. |
Use the links below to get yourself a new pair of chucks to have fun in.