"Hollaback Girl" by Gwen Stefani
Gwen Stefani has had such an interesting and diverse career. From lead singer of punk rock band No Doubt to superstar solo pop artist to judge on NBC's The Voice, everything she's done has felt authentic to her. In her early solo career though that authenticity was called into question on multiple occasions. The song "Hollaback Girl" originates from one of these instances. Based on some comments that Courtney Love made about Stefani, stating that she was nothing more than a "cheerleader", the track is off Stefani's debut solo album, and perhaps her best known hit.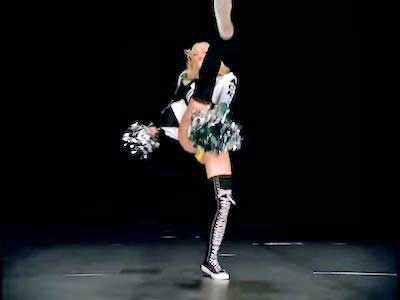 When someone calls you a cheerleader to demean you, become a cheerleader while going platinum.
The song is instantly recognizable right at the start, as Stefani starts with an "Uh Huh" while the stomp-clap beat comes in. Pharrell Williams produced this infectious beat, and kudos to him and Stefani for keeping the marching band/ cheerleader theme going in the song's composition. Gwen talks about how she's not trying to get into all this drama, instead calling it silly and bananas. That's when the most iconic spelling of any word in a popular song occurs, as Gwen Stefani teaches a nation to spell "Bananas". It's spelled "B-A-N-A-N-A-S" by the way. Overall, this song is insanely catchy, has some biting lyrical takes on how Gwen was viewed at the time, and somehow includes the cheerleader theme throughout.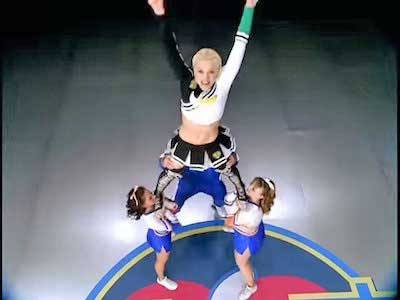 Gwen strikes a pose in knee high black chucks.
The music video starts with Gwen and her gang of girls taking a group picture, then hopping into a yellow lowrider that features a mural of Gwen on the hood. The car is followed by Stefani's army of fans as the group pulls up to a high school. They make their way through the school looking like a 1950's street gang heading to a brawl, and take over the school's gymnasium. Gwen then leads the marching band and school's cheerleaders through the rest of the song, donning a cheerleader outfit that is worn with a pair of knee high black chucks. This look is a subtle jab at Love's comments, and shows that she can be both a cheerleader and rebel all at once. The video concludes on Stefani standing in the spotlight dressed as herself, exactly as it should be. .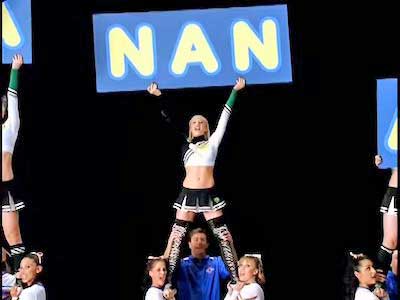 "Lemme spell it out for you."
| | |
| --- | --- |
| | If you have information about specific videos where chucks make an appearance, please contact us at mail@chucksconnection.com. |
Use the links below to get yourself a new pair of chucks for your cheerleader routine.