"Black Magic" by Little Mix
Little Mix is a British girl group formed in 2011 during the eighth series of the UK version of The X Factor. The group consists Jade Thirlwall, Perrie Edwards, Leigh-Anne Pinnock, and Jesy Nelson, and was the first group to win the competition show. Following in the footsteps of other girl groups like the Spice Girls in both sound and success, Little Mix has had numerous number one hits in the UK including "Wings", "Shout Out to My Ex", and "Black Magic". "Black Magic" is the groups first breakout hit in the US, reaching number 67 on the Billboard Hot 100.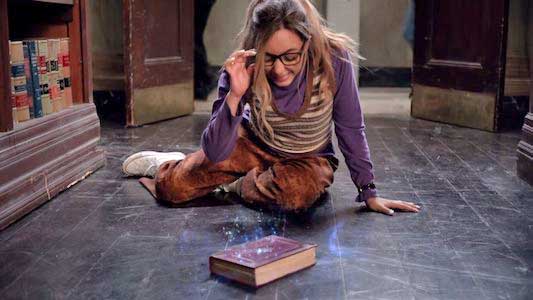 Glowing books typically aren't a good thing to mess with.
The song is about how the girls' charm is spellbinding to boys all over, bringing them in and intoxicating them to no end. Their "Black Magic" is actually their self-confidence, and they're proud to share it with the world. This is actually a pretty great message for anybody wondering how to get someone to fall for you. Just be confident and be yourself and everything will work out. The music of this song is actually very catchy, and the girl's vocals all work well together to make the chorus get stuck in your head for hours on end.
Jade Thirlwall wears white chucks in this video.
The music video begins with Little Mix walking out of school where they are the resident nerd group. You can tell because they're all wearing glasses and mix matching clothes. Jade Thirlwall has chosen to wear chucks as part of her nerd ensemble, which is a common choice for people trying to nail that look. All four of the girls are crazy for the school's long-haired popular boy, but he's too busy dating the school's blonde-haired popular girl. This video is filled with these classic high school tropes, and they're all so over the top that it's pretty distracting. The girls find an ancient spell book in their school's library and use it to cast a terrible curse that gives them powers to exact revenge on the popular kids. This includes making the blonde girl fart in front of her boyfriend and making a group of popular girls fall in love with a nerdy boy. They go around the school casting spells, and causing chaos. This premise has the makings of a horror movie but the video is enough.
This is why you never experiment with weird spell books you find at the library.
| | |
| --- | --- |
| | If you have information about specific videos where chucks make an appearance, please contact us at mail@chucksconnection.com. |
Use the links below to get yourself a new pair of magic chucks.