"Ric Flair" by Tom Mcguire & the Brassholes
Tom McGuire & The Brassholes are an eclectic, modern-soul-funk, eight piece band from Glasgow, headed by crooner Tom McGuire. The band delivers a great variety of music due to their eclectic lineup that includes a saxophonist, a keyboardist, a drummer, and two brass players. The band made a name for themselves on Sauchiehall and Buchanan Street as buskers during Glasgow's 2014 Commonwealth Games, and they've slowly been working their way up the staircase of success ever since, becoming one of Scotland's most vibrant live acts. Their debut, self titled album is due for release in early 2019, which leads to their debut single "Ric Flair". The song is a tribute to the "kiss stealing, wheeling dealing, son of a gun" professional wrestler from the 1980's and 1990's, and how incredibly cool the Nature Boy always was and will be.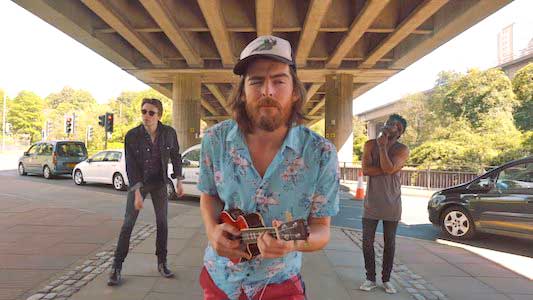 Drummer Micah Johnston wears grey chucks in this video.
The song is a bluesy, funky jam that is fueled by a groovy bass line. The electric guitar used here is also insanely catchy, and will have you stepping along like the band does in the video. The lyrics recount all the characteristics of the "Real" Worlds Heavyweight Champion, The Nature Boy Ric Flair. There's references to his trademarked "WOO", and his bright robes and tights. He's the "jet flying, limousine riding" "dirtiest player in the game", and Tom is basically saying that he is indeed as cool as the sixteen time World Champ. This song is so incredibly fun and catchy, and if you're a major fan of the Nature Boy, you'll love it even more.
Wooooo!
The music video begins with Tom and the Brassholes walking under an overpass as Tom fiddles with a mandolin. The gang starts out with just three members walking, but soon the whole band comes in and out as they make their way down the street. It's here we see that a few of the Brassholes are wearing chucks, the most noticeable being drummer Micah Johnston who wears a pair of grey chucks. They soon come across a man dressed as Ric Flair, and the faux Nature Boy joins them as they jaunt through the city. Soon Jake "The Snake" Roberts, the Ultimate Warrior, and "Hacksaw" Jim Duggan join the caravan, which then breaks off as Tom and Ric hop into a pink limousine. The whole band then ends up at a little nightclub where they finish out the song together, which is then followed up by Flair and the Warrior having a match on stage, where faux Flair applies his famous Figure Four Leglock. This is a really fun video for fans of pro wrestling as you can tell that Tom and the Brassholes are huge fans of Naitch. A cameo from Flair himself would have been nice, but this is still a crazy fun video that fits perfectly with a crazy funky song.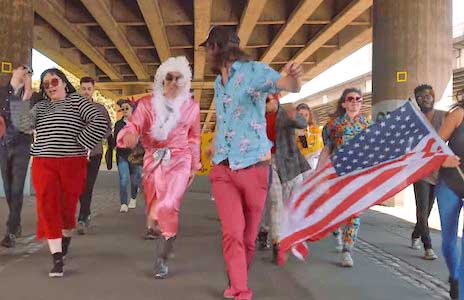 Cool on another level.
| | |
| --- | --- |
| | If you have information about specific videos where chucks make an appearance, please contact us at mail@chucksconnection.com. |
Use the links below to get yourself a new pair of chucks to step along in.