"Sugar, We're Goin' Down" by Fall Out Boy
Fall Out Boy is an American punk rock band from Wilmette, Illinois, a suburb of Chicago. Playing together since 2001, the band consists of lead vocalist and rhythm guitarist Patrick Stump, bassist Pete Wentz, lead guitarist Joe Trohman, and drummer Andy Hurley. The band got their start in Chicago's hardcore punk scene, with which all members were involved at one point. The group recorded their debut album, Take This to Your Grave in 2003, which became an underground success and helped the band gain a dedicated fanbase. The album has commonly been cited as an influential blueprint for the pop punk wave of the early 2000s. The song "Sugar, We're Goin Down" was released on April 5, 2005 as the lead single from their second album, From Under the Cork Tree. It became one of the biggest songs of 2005, and went on to be certified 4x Platinum by the RIAA.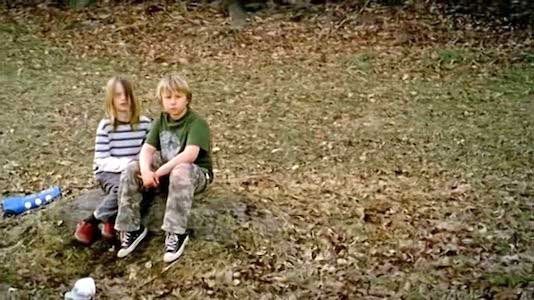 The neighborhood kids wear chucks and make fun of Antler Boy in this video.
The song is about a couple that is doomed from the start, and one in which the guy knows that he's going to be the girl's biggest regret in her love life. Lead singer Patrick Stump told Rolling Stone magazine that he intentionally slurred the chorus to make it more rhythmic and sound better. This delivery certainly does give the song a much more pop punk vibe, and enhances the driving nature of the track. The music is definitely on the same pop punk train that a lot of bands were on at the time, but if you're a fan of the genre, the track still holds up.
The girl next door shows some love for his antlers in gray chucks.
The music video follows a socially outcast boy who has antlers fixated to his head, played by Donald Cummings of The Virgins. Throughout the video, the boy is made of fun of by people in town, and also by the father of the girl he has feelings for. He attempts to remove his antlers in hope of acceptance and a chance at the girl, but she secretly hangs out with him despite his antlers. This is where we see that the girl is wearing gray chucks, which really give her a girl next door look that anyone can relate to. Soon the boy discovers that her father has hooves, and the boy and father are able to connect through a mutual acceptance for each other. This is an iconic video for many who grew up watching Total Request Live on MTV at the time, and was their first gateway into the pop punk scene.
Just an Antler Boy looking for love in this crazy world.
| | |
| --- | --- |
| | If you have information about specific videos where chucks make an appearance, please contact us at mail@chucksconnection.com. |
Use the links below to get a new pair of chucks.