"Take On Me" by Weezer
The 1980's was a decade full of one hit wonders that have stood the tests of time. Hits like Toto's "Africa", Toni Basil's "Mickey", and Devo's "Whip It". However, none of them are as recognizable as A-ha's "Take On Me". The song was released in 1984 and is known for it's instantly recognizable hook, and its combination of synthpop and varied instrumentation. It's a quintessentially 80's song that has been covered numerous times by bands like Reel Big Fish, and memorably redone by A-Ha on an episode of MTV Unplugged. The songs 1980's rock pop sound makes it the perfect candidate to be covered by the band Weezer on their latest album, The Teal Album. The band has taken a liking to covering well known pop and rock songs, such as the aforementioned "Africa" and TLC's "No Scrubs". Their cover of "Take On Me" is the second single off the album, and was released with a music video on February 12th, 2019.
The young bassist wears worn high top chucks in this music video.
The song remains lyrically unchanged from the A-Ha's original composition. It's about a guy asking a girl to take a chance on him now because he can't ask forever. Eventually he'll stop, and then he'll be gone, leaving nothing but regret for the both of them. Weezer's version definitely leans into their musical style, sounding more pop punk than 80's synth. The most noticeable difference is Rivers' vocal tone when compared to A-Ha. Your taste in music will dictate who you prefer, but Rivers' vocals definitely fit this cover great.
Everything about this screams 1980's.
The music video begins with a young Rivers Cuomo listening to A-Ha in his room while doodling in a notebook. He then heads downstairs to join in with his band (younger versions of Weezer), to jam out while his mom is out of the house. They start playing the song and we see that the bassist is wearing worn high top chucks with a grey oversized shirt, a perfect rebel look from the 1980's. Once the band gets to the first chorus, a tribute to the original A-Ha music video comes in in the form of an overlay of animation. This harkens back to the original video in a modern but retro way. The rest of the video is this overlay combined with shots of the band just hanging out and performing. The gang in the music video definitely has a Breakfast Club vibe going for them, and it seems like they're genuinely having fun together. This is a fun music video that stays true to the song's 1980's origins while fitting in with Weezer's ongoing quest to cover everything before they release The Black Album.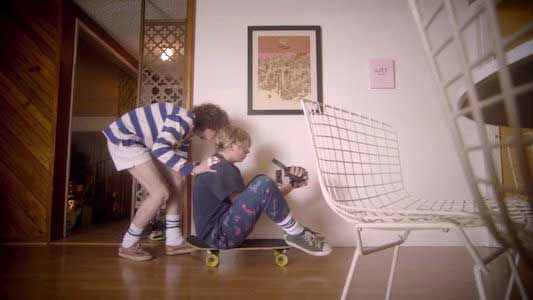 Back when everything was recorded on cameras not phones.
| | |
| --- | --- |
| | If you have information about specific videos where chucks make an appearance, please contact us at mail@chucksconnection.com. |
Use the links below to get a new pair of chucks for your video.