"Swang" by Rae Sremmurd
Rae Sremmurd is an American hip hop duo from Tupelo, Mississippi. Consisting of two brothers, Slim Jxmmi and Swae Lee, the duo is best known for their single "Black Beatles" from SremmLife 2, which peaked at number one on the US Billboard Hot 100, while also charting internationally in the top ten in many countries. Swae Lee has also recently found success as a solo artist, reaching #1 on the Billboard Hot 100 in 2019 for the song "Sunflower", off the Spider-Man: Into the Spiderverse soundtrack. Their song "Swang" is also off SremmLife 2, and while it wasn't the crossover mega hit that "Black Beatles" was, it was still a hugely successful song that reached #26 on the Billboard Hot 100.
Squad goals.
The song begins with little music, highlighting Swae Lee's vocals as he shows off his impressive range. The rest of the thumping beat kicks in as do Slim Jxmmi's vocals. This song is all about the positivity of people coming together, as "swangin" is a slang term for rocking together according to Slim. This song really shows off the duo's vocal chemistry, showcasing both Swae Lee's tender and light harmonies and Jxmmi's rougher verses. It's also incredibly CathyC, which can be attributed to the simple hook and Swae Lee's delivery.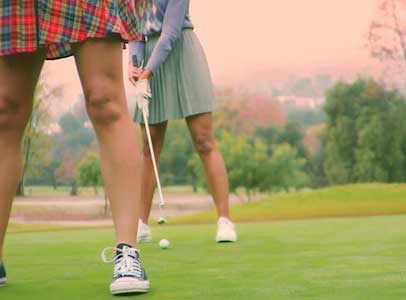 Chucks on the course!
The music video is a mix of both throwback VCR style footage, and modern HD footage. The basic premise of the video is that Rae Sremmurd have invaded a golf course to "swang" their clubs around, and that has angered the course's good old boys. This is due to Slim and Swae bringing dancing girls with them, doing drugs, and riding around recklessly in oversized, Jeep golf carts. Three of the girls that Sremmurd brought to the course are wearing chucks, with one wearing a black high top pair, another in optical white low tops, and a third girl wearing blue low tops. Chucks probably won't leave much of an imprint on the greens, so the girls are following the golf dress code wearing them. Overall, this is a fun video that puts Rae Sremmurd into a situation we don't see a lot of rappers in, and what's more, they look comfortable with a set of golf clubs.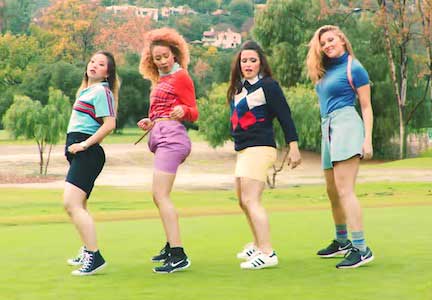 Sremmurd's dancers rock chucks in this music video.
| | |
| --- | --- |
| | If you have information about specific videos where chucks make an appearance, please contact us at mail@chucksconnection.com. |
Use the links below to get a new pair of chucks you can wear to the golf course.