"The Great Escape" by Boys Like Girls
Boys Like Girls is an American pop rock band from Boston, Massachusetts that began playing together in 2005. The group gained mainstream recognition after the release of their self-titled debut album. They then headlined the Soundtrack of Your Summer Tour in 2008 that toured across the United States along with the band Good Charlotte. Boys Like Girls is also known for their second studio album, Love Drunk, which was released on September 8, 2009. The song "The Great Escape" is the debut single off their first album, and is considered the band's breakout hit. It was their first single to chart on the Billboard Hot 100, peaking at number 23, and it has also been certified Platinum by the RIAA.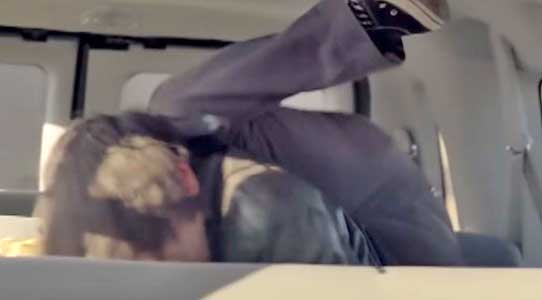 The band messes around a lot while traveling to their next gig.
The song is about graduating from high school according to the songwriter Martin Johnson. In a lyric feature he states that, "I wrote it as a last hurrah to high school, growing up, and in a sense… the last night of being a kid. It's the end of one chapter… with an outlook on the future… sort of like a prequel to the rest of the record." Musically, the song doesn't particularly stand out amongst its fellow pop punk anthems from this period of time. It could easily fall into a playlist of songs from Sum 41, Fall Out Boy, The All-American Rejects, and so many more, and you might not notice that it wasn't one of those bands.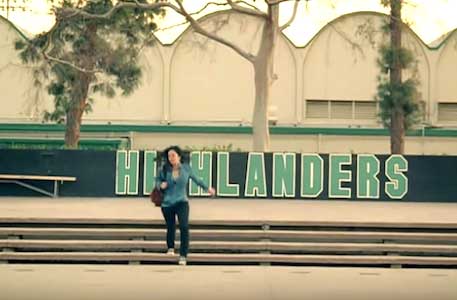 Running to make the show in chucks!
The music video features the band traveling on the road, making their way to a concert in a van. It also details the journey of a group of their fans on the way to and during that same concert. It goes back and forth between the band and the friends showing their journey as they both make their way to the concert the band will be playing. This video instantly transports the viewer back to a simpler time. A time in late 2006 when pop punk ruled MTV and your weekends were spent at sleepovers eating spaghetti. This nostalgic vibe is bolstered by the pop punk fashion of the time: skinny jeans, ripped shirts, slanted hats, and a lot of Chuck Taylors. Both members of the band and this group of fans wear chucks in the video, with most of them wearing black but at least one member is wearing a white pair. Overall, it's a nostalgia trip of a video that offers a fun look into the underground, pop punk scene of the mid 2000's.
Warming up in the dingiest of green rooms.
| | |
| --- | --- |
| | If you have information about specific videos where chucks make an appearance, please contact us at mail@chucksconnection.com. |
Use the links below to get a new pair of chucks for your band tour.