"What's My Age Again? / A Milli" by Blink-182 and Lil Wayne
Lil Wayne is one of the most popular rappers of all time. Selling over 100 million records over a 26 year career, the man from Weezy-iana is known for his explicit and brash lyrics, and catchy beats and hooks. Blink 182 is an American rock band from Poway, California that exploded in popularity in the 1990's for their high energy shows and irreverent lyrics. These two have come together to create a mashup of two of their most popular songs: "What's My Age Again?" and "A Milli". This mashup joins the storied history of weird but great rock and hip-hop collaborations that includes Jay-Z and Linkin Park's remix of "Numb" and Run DMC and Aerosmith's version of "Walk This Way". The release of this song and its music video took the internet by storm, and it even trended on Twitter over the birth of a new member of the Royal Family.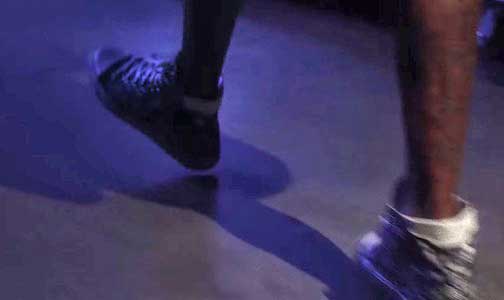 The first shot of the music video is of Lil Wayne's studded chucks.
The song is for composed of the music and hook from "What's My Age Again" and the verses from "A Milli". This allows Weezy to show off his ability to adapt his flow like no other, as his vocals work perfectly with the upbeat rock sound coming from the band. These verses lead perfectly into the chorus from Blink co-lead vocalist Mark Hoppus. The song has an infectious energy and combines two songs that are known by millions really well.
A sight to behold for anyone who grew up in the late 90's and early 2000's.
The music video begins with Weezy walking onto a soundstage in a pair of silver studded chucks. His whole outfit is very on brand for him, especially since his love of Chuck Taylors is well documented. Blink-182 is already there and is ready to get this song going. Without hesitation, Wayne starts off with the familiar opening lyrics of "A Milli" and the band kicks in soon after. The rest of the video shows the band and Weezy performing together on this stage, where they all seem to be having a really great time. Wayne is bouncing back and forth, on and off the mic as he and Hoppus trade vocals. As the performance comes to a close, the band and Weezy all high five as the camera backs up off the stage. It then goes through the door that Wayne first walked through, but now there is a poster taped to the door that says that Lil Wayne and Blink-182 are going on a North American Summer Tour together with special guest Neck Deep. So if you're a fan of rock and hip-hop mash-ups you'll have that to look forward to this summer! Overall, this is a perfectly fine music video that serves the purpose of getting fans excited about the tour, and showcases how well Lil Wayne and Blink-182 perform together.
Giving it up for drummer Travis Barker.
| | |
| --- | --- |
| | If you have information about specific videos where chucks make an appearance, please contact us at mail@chucksconnection.com. |
Use the links below to get a new pair of chucks for your band tour.