"Higher" by DJ Khaled
DJ Khaled is one of the most successful music producers of all time, and is known to churn out hits every year. John Legend is an EGOT singer-songwriter whose voice had been called upon to bring soul to numerous amazing tracks throughout his career. Nipsey Hussle is a rapper/activist from LA who is known for his hard hitting lyrics and signature swagger. Together these three make up an all-star triumvirate that could make any record a hit. Or at least they did until Nipsey Hussle was murdered in front of his South Los Angeles store. The song "Higher" is dedicated in his memory, and is the third single from Khaled's 11th studio album, Father of Asahd. It was released on May 17, 2019, with the music video releasing the week after. Khaled has stated that all proceeds from sales of the song will go to the rapper's children.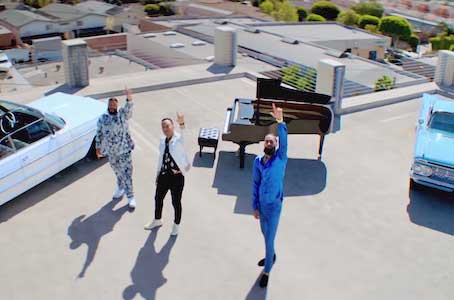 Rest in Peace to the late Nipsey Hussle.
The song features an all-time beat from Khaled. There is a soaring choir sample and thunderous percussion that gives the feeling of a higher power coursing through the song. This gospel inspired beat is right up John Legend's wheelhouse, and also suits Nipsey really well. He offers very commanding and powerful vocals that will inspire and uplift any listener.
Nipsey is the undoubted star of this video, as he commands the screen whenever he's shown.
The music video features Khaled, Nipsey, and Legend moving through Los Angeles as they perform the song in different neighborhoods and locales. Nipsey Hussle is undoubtedly the star of this music video. Dressed head to toe in a velvet blue suit, he commands the screen and his aura is that of a star. As he goes through his verses, you can easily see why he was considered a legend in the city of Los Angeles. Khaled is dressed boldly as well, but he spends the majority of the video just dancing around Nipsey (which is what he does in every video). John Legend also holds his own, spending most his time behind the piano. He's dressed in black jeans and a black shirt, which he pairs with a cream bomber jacket and cream chucks. These combination of colors and style contrasts well against Khaled's Jordan brand tracksuit, and Nipsey's velvet attire. This is a very uplifting and inspiring video, which makes it a fitting tribute to the late great Nipsey Hussle.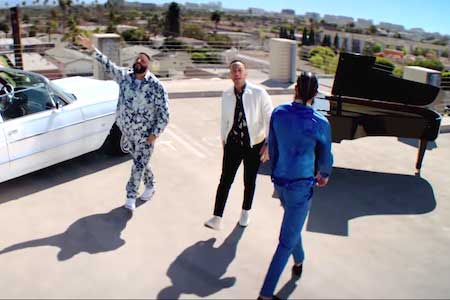 John legend sports a pair of cream chucks that shine when paired with his black jeans.
| | |
| --- | --- |
| | If you have information about specific videos where chucks make an appearance, please contact us at mail@chucksconnection.com. |
Use the links below to get a new pair of chucks to uplift yourself.