"Murder Was The Case" by Snoop Dogg
These days, Snoop Dogg is one of the most beloved entertainers in pop culture. He's a game show host, podcaster, youth football coach, and cookbook author with Martha Stewart. Every once in a while, he releases new music or shows up on a guest verse for a current day pop star, but Snoop is far more well known for his brand and his personality than for his music. He's America's sweetheart, and he reaches all demographics. However, this was not the case in the 1990's when Snoop Dogg was on trial for murder. At the time, the Death Row rapper was just another thug who was living proof that "gangsta rap" was a disease in pop culture infecting the youths of the time. After beating the case, Snoop did what any smart musician would do: he made a song about it.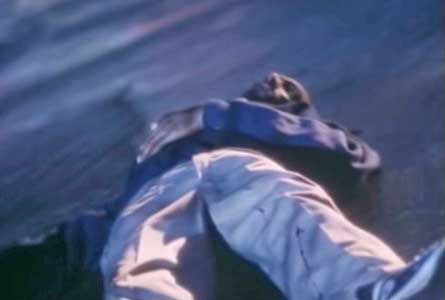 Snoop Dogg perishes while wearing blue high top chucks.
"Murder Was The Case" is a track off of Snoop's 1993 debut album, Doggystle, and it was re-released a year later as part of a short film of the same name. While the title of the track addresses the case that Snoop was fighting at the time, the actual lyrics in the song tell a much deeper story. In the song, Snoop is the one who is murdered, and he makes a deal with the Devil in order to come back to life so he can be there for the birth of his child. This is more storytelling from Snoop than we usually see, as most of his lyrics are more about creating a feeling and vibe than telling a complex narrative.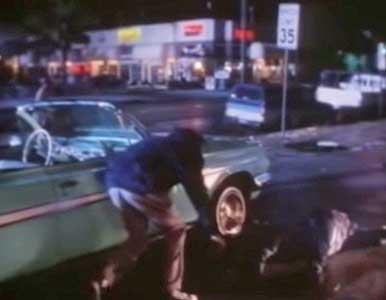 Snoop checks on his dead homie.
The music video begins with Snoop Dogg laying in the street dying, and we immediately see his blue high top chucks. They go perfectly with his all blue outfit, which leads one to believe that he is playing a Long Beach Crip in this music video. The video then flashes back to the beginning of the day, and we see how Snoop met this fate and how the Devil himself resurrected him. These story scenes are intercut with images of Snoop rapping in what appears to be Hell. The video ends with Snoop dying anyways, proving the age old adage that death is inevitable. This music video stands out amongst the rest of Snoop's catalog for its striking visuals and its adherence to a narrative, and for its impeccable timing to come out at the time that it did.
Snoop even heads off to prison in chucks.
| | |
| --- | --- |
| | If you have information about specific videos where chucks make an appearance, please contact us at mail@chucksconnection.com. |
Use the links below to get a new pair of chucks to live your life in.