"Motivation" by Normani
Normani is a 23-year-old American singer-songwriter and dancer. A former member of the girl group Fifth Harmony, Normani has broken out onto her own in the past year. Her first single outside of the group was "Love Lies" with R&B singer Khalid, which peaked at number nine on the Billboard Hot 100 chart. This along with a series of high profile features established Normani as someone primed for a big solo debut. This has all culminated with her debut single, "Motivation" which is the precursor to a debut album. The song was originally written for and by Ariana Grande, but was given to Normani after the two briefly toured together on Grande's Sweetener World Tour.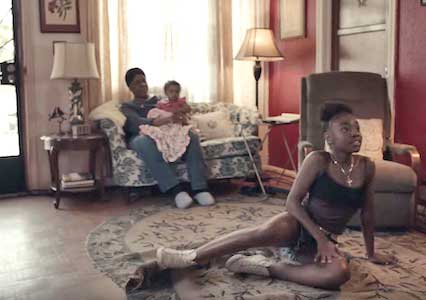 Normani watches BET's 106 & Park while wearing white chucks.
The song is about how Normani wants to be her man's motivation in life, and how she wants to be what drives him everyday. The track has a very upbeat, deeply rhythmic, and superbly melodic pop song that is much more inline with Ariana Grande than fellow former 5th Harmony member Camila Cabello. This allows Normani to show off her underrated vocal range and her ability to put together catchy vocal runs. This is Normani's first solo single and it is a perfectly crafted debut that may be a glimpse at the birth of pop's next mega star.
This video pays to tributes to some of the great R&B and pop music videos of the 2000's.
The music video begins with a young Normani wearing white chucks and watching BET's 106 & Park while at home in Houston. VJ Terrance J then introduces her own video and the music comes in. This framing device works incredibly well because this video is all about nostalgia for 2000's pop and R&B. This includes tributes to Beyonceé's "Crazy in Love", Britney Spears' "...Baby One More Time", Jennifer Lopez's "Im Real", Ciara's "Gimmie Dat", and Kelly Rowland's "Dilemma". Normani goes from scene to scene showing off some incredible dance moves, including a scene where she bounces a basketball, does a perfect pirouette, then bounces the landing basketball off her butt. The music video ends with a big dance sequence in the street as a few of Normani's backup dancers are wearing black chucks. All of these scenes are so well done, and give off such an energetic vibe that the act as a perfect introduction to Normani for audiences everywhere.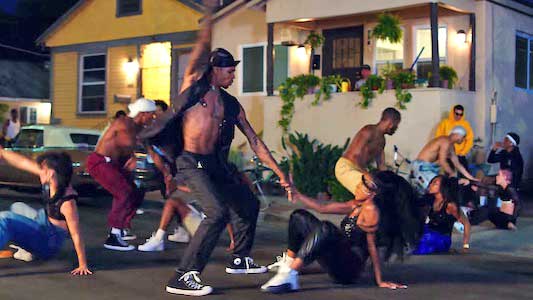 The choreography in this video is incredible.
| | |
| --- | --- |
| | If you have information about specific videos where chucks make an appearance, please contact us at mail@chucksconnection.com. |
Use the links below to get a new pair of chucks for your debut video.