"Never Catch Me" by Flying Lotus

Flying Lotus is an American producer, DJ, and rapper from Los Angeles, CA. He has released six studio albums, 1983 (2006), Los Angeles (2008), Cosmogramma (2010), Until the Quiet Comes (2012), You're Dead! (2014), and Flamagra (2019), all to critical acclaim. Known for his ability to combine experimental hip-hop, alternative, and electronic music, Lotus has worked with some of the most creative and prominent artists of the day. One of those artists is Kendrick Lamar, the artist of his generation and someone who has taken the hip-hop genre to new heights in his short career. Their song "Never Catch Me" was released in 2014, and was nominated for a Grammy for Best Dance Recording of all things.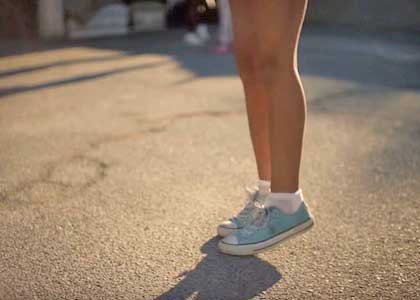 One of the children in this music video wears light blue low top chucks.
The song is a chaotic, jazzy production featuring a Kendrick verse that is different than anything else he's ever done. He's rapping at warp speed over a psychedelic soul infused, jazz beat that has more in common with 90's groups like A Tribe Called Quest than usual West Coast Rap. This is a beat that has new things to offer every time you listen, and showcases why Kendrick is King.
These two kids make this video a must see with their choreography and energy.
The video begins inside of the back of a church, where a closed casket sits waiting to be rolled out in front of a collection of mourners. As the service begins, we see that it was a young girl and boy that died. This leads us to believe that this is a sad video, but the two kids pop up out of the caskets alive and well. However, it appears that the churchgoers can't see the kids as they make their way down the aisle. They continue to dance through the church as the mourners begin to leave. Eventually, the kids make their way to the back of the church where a group of kids are playing. This group can see the kids dancing, and they see them jump into the back of the waiting hearse. One of these kids is jumping rope and wearing a pair of light blue low top chucks, which are a perfect look for a kid playing in the LA sun. The kids end up driving their own hearse away as the other group of kids chases them down. This music video is a visually stunning and emotional piece of art, and it's no wonder that it was one of the most talked about and acclaimed videos of 2014. It does all this without featuring the two artists of the song, which goes to show just how powerful the visuals are.
Chasing after a hearse in chucks.
| | |
| --- | --- |
| | If you have information about specific videos where chucks make an appearance, please contact us at mail@chucksconnection.com. |
Use the links below to get a new pair of chucks to cheer yourself up.