"1985" By Bowling For Soup
Time for a fun fact: the majority of American listener's believe that "1985" was originally written by pop/punk band Bowling for Soup. In reality, it is actually just a cover of a SR-71 (the band not the jet) song of the same title with a few minor alterations of the lyrics. Let's just pause for a second to take a moment of silence for these guys. Since 2004 they have been forced to watch Bowling for Soup achieve great success for their (SR-71's) song with little to no recognition as to the actual source. But their lack of recognition isn't just due to bad luck, but more so the fact that most people have come to a general consensus that Bowling for Soup just does it better.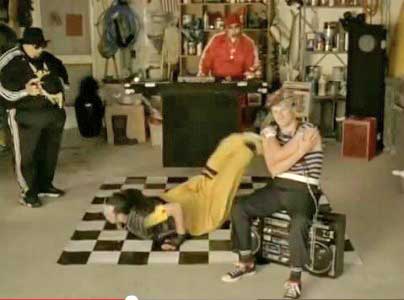 Bowling for Soup in their 80s hip hop attire.
While the song may not be one hundred percent original, the video is! First off, picture all the fit, perfectly groomed heartthrobs of One Direction. Now imagine their exact opposites and you will have the goofy members in Bowling for Soup. This is especially important because right off the bat they're all crammed into tight black dresses in the style of Robert Palmer's "Addicted to Love".
The setting is the street of a clean cut suburb where a woman—who is also the subject being described in the song—is seen outside tending to her yard and interacting with her less than appealing husband. On the opposite side of the pavement is Bowling for Soup's house, or their garage more specifically, where they alter their look to match those of popular bands from the 80s.
  Acting out the part of a hair band era rapper.
After tackling the Robert Palmer look, they change into some chuck-wearing hip hop artists resembling Run DMC or the Beastie Boys, and from that, to a tribute of George Michael's "Faith". As all these shifts in appearance happen, the woman from across the street ends up sneaking over to the band's house only to end up dancing on the hood of their car Whitesnake style.
 A failed attempt at breakdancing.
Even for the younger generation who may not get all the references, this is still a very entertaining video. In roughly three minutes, Bowling for Soup is able to capture the highlights of 80s music in a tasteful and humorous way that also acts as a nice tribute to the decade.
| | |
| --- | --- |
| | If you have information about specific videos where chucks make an appearance, please contact us at mail@chucksconnection.com. |
Chucks can give you the look of the 80s, but for that matter, any decade!