"Music Everywhere" by John Mulaney & The Sack Lunch Bunch
John Mulaney has been one of the funniest and most successful comics of the past few years. He's gained a huge following after a string of successful stand-up specials including The Comeback Kid and Kid Gorgeous. He's also voiced characters in the Netflix animated show, Big Mouth, and the film Spider-Man: Into the Spider-Verse. His rise has led to him taking some big swings recently, which leads to his Netflix special John Mulaney & the Sack Lunch Bunch. The special was created by Mulaney and is inspired by children's TV shows like Sesame Street and The Electric Company. The titular Sack Lunch Bunch is comprised of fifteen kids ranging from ages 8-13. They're all dressed in colorful but normal kid outfits, with a third of them wearing different pairs of chucks. The special is made up of skits and musical numbers and features celebrity cameos from Richard Kind, André De Shields, David Byrne, Natasha Lyonne, Annaleigh Ashford, and Jake Gyllenhaal.
Mr. Music is here to show music is everywhere!
"Music Everywhere" is the final sketch of the special, and features Jake Gyllenhaal as Mr. Music. Mr. Music is a mustachioed man in a xylophone marching band jacket who has one goal: to show these kids that there is music everywhere. Music here, music there, you can make music anywhere. He's so confident in his ability to show that there's music everywhere that he turns down a clarinet from one of the Sack Lunch Bunch kids, calling it a "skinny trumpet" and that "instruments are stupid". He then starts singing his tune of how one can make music everywhere and this is where it all falls apart. He begins by tapping a fluffy pen on a paperback book which obviously doesn't make much of a sound. He then moves onto throwing a shirt into a laundry hamper which again makes no noise. Apparently, Mr. Music stayed up late the night before and didn't prep anything that actually makes a noise, and his failings get more and more sad but hilarious as the song goes on.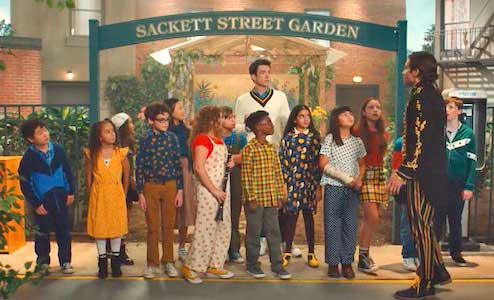 Many of the kids in the Sack Lunch Bunch wear chucks in this special.
This whole skit is made by Jake Gyllenhaal who is just a phenomenal actor, but really sells the despair and downward spiral of Mr. Music. His ad-libs and jokes all hit, and he apparently recorded all his vocals live at the set since he was unavailable to record them in the booth. The kids from the Sack Lunch Bunch add this frightened innocence and Mulaney just seems to be loving every second of this man failing at proving a point. Everything about this video and special is a perfect encapsulation of Mulaney's surreal sense of humor. Watch the whole special, but definitely check out this video if for no other reason than to learn that music is in fact, everywhere.
"Is Mr. Music okay?" "No Mr. Music's not okay, he's having a lot of trouble."
| | |
| --- | --- |
| | If you have information about specific videos where chucks make an appearance, please contact us at mail@chucksconnection.com. |
Use the links below to get a new pair of chucks to make music in.