"The Schuyler Sisters" by Josh Colley, Luca Padovan, and Douglas Baldeo
Hamillton is the biggest musical phenomenon to ever hit Broadway, crossing over genres and demographics the likes of which no musical has ever crossed before. Using the life and times of the ten dollar Founding Father Alexander Hamilton, accompanying his story with hip-hop and R&B music, the musical is about "America then, as told by America now." With a nearly all non-white cast, the show let's it be known that anyone can start a revolution and be a part of history. This makes it a perfect source for Manhattan Class Company's annual Miscast Gala. Founded in 1986 as Manhattan Class Company, MCC is celebrated for developing and producing work that challenges artists, audiences, and students alike to ask difficult questions at every stage of the creative process. Their Miscast Gala takes this mission a step further by giving Broadway actors a space where they can perform songs for roles they would never be cast in. In 2016, this meant that Josh Colley, Luca Padovan, and Douglas Baldeo got to portray the three Schuyler Sisters from Hamilton, and perform their eponymous signature song.
The Schuyler Sisters take stage at the Miscast Gala.
"The Schuyler Sisters" is the fifth song from Act I of the show, and introduces the audience to Angelica, Eliza, and Peggy Schuyler. This trio of sisters are happy to be in Revolutionary New York, and they sing about how exciting it is to be alive right now. Musically the song heavily relies on the harmonies between the three women singing the song, which in this case happens to be three young boys. Josh Colley plays Angelica, Luca Padovan plays Eliza, and Douglas Padovan plays Peggy. Colley is the powerhouse that Angelica has to be, while Luca has a very light tone that fits Eliza very well. Douglas is a great Peggy because he brings the youthful innocence that makes her a fan favorite character. The three boys have all been a part of major Broadway productions, and it's easy to see why. They have incredible vocal chops for their age, and they pair well together as a trio, almost as if they'd been performing together for ages.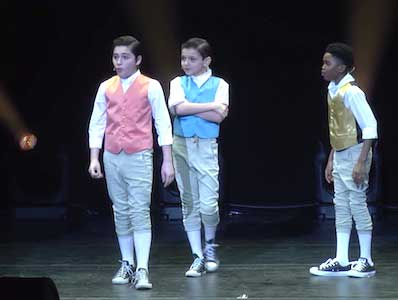 Josh Colley, Luca Padovan, and Douglas Baldeo wear classic black chucks for this performance.
The video was filmed at the 2016 Miscast Gala, and features Ana Villafañe portraying Aaron Burr in a guest spot. Typically Angelica, Eliza, and Peggy wear big, period appropriate dresses, but the boys are dressed in something much more modern: vests, slacks, and chucks. Josh wears a salmon vest, Luca wears teal, and Douglas wears yellow, all the colors that the characters wear in the show. All three boys wear black chucks which gives them a youthful and modern look while still being quintessentially American. The boys pull off the choreography, style, and vocals from the show, and give it their own flare which is everything you want from a Miscast performance.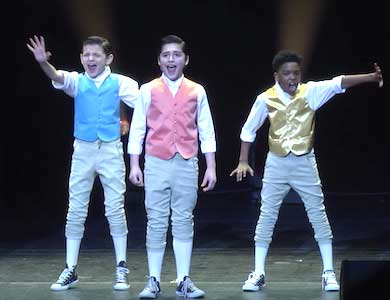 "Look around, look around at how lucky we are to be alive right now."
| | |
| --- | --- |
| | If you have information about specific videos where chucks make an appearance, please contact us at mail@chucksconnection.com. |
Use the links below to get a new pair of chucks to wear on stage.