"Therefore I Am" by Billie Eilish
Billie Eilish's rise to superstardom has been a total surprise over the past few years, as not many would look at the dark, alternative aesthetic of the 18-year-old singer-songwriter and think "mega pop star". However, her ethereal soprano and unabashed confidence have made her one of the biggest artists in music today. Along with her producer/brother Finneas O'Connell, Eilish's whispery vocals have brought her hits like "Ocean Eyes", "bad guy", "when the party's over", "you should see me in a crown", and "No Time to Die". Her latest single is "Therefore I Am", and was recorded and produced in quarantine, with the music video also being filmed and released in isolation.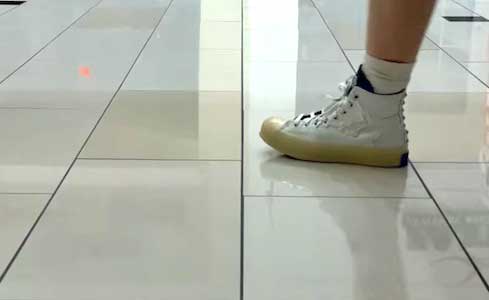 The first thing we see in this video are Billie's Chuck 70's.
The song acts as a message from Eilish to all those who have dished their opinions on her look and aesthetic through her rise to fame. Backed by Finneas's signature production, Eilish adds a biting edge to her usual whispery vocals as she rails against those who would love to dissect everything about her. Eilish has a lot more swagger than usual on this track, which definitely vibes with her lyrics. However, one thing that is never in shortage is just how catchy the tune is, as Eilish and her brother churn out hits like butter.
Who among us hasn't wanted to run free through an empty mall?
The music video takes place in the empty Glendale Galleria, with Eilish being the only person in the whole mall due to quarantine. The video begins with Eilish walking into the mall alone. She's dressed in a baggy white cardigan, and shorts, and is wearing pair of Jordan "Why Not?" X Converse Chuck 70 high tops. The unmistakable chuck silhouette is the first thing we see in the video as Billie enters the mall. As the song's beat kicks in, Eilish starts to dance wildly throughout the mall treating herself to food from mall food court staples like Wetzel's Pretzels, Hot Dog on a Stick, and Chipotle Mexican Grill. Eilish then heads up an escalator, and sings the chorus while eating the feast she's accumulated. The video ends with a mall security guard yelling at Eilish, instructing her to leave the building. She flees into the parking garage, having had her fill of food and escapism for the night. This video lives out a fantasy many of us have thought about when it comes to having free reign in the mall. Seeing Eilish run freely in the pristine open spaces of the Glendale Galleria is the kind of escapism we all wish we could partake in as the quarantine rolls on.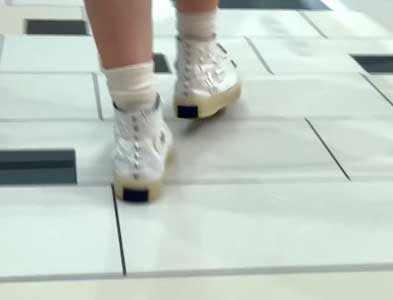 These chucks feature metal studs on the back.
| | |
| --- | --- |
| | If you have information about specific videos where chucks make an appearance, please contact us at mail@chucksconnection.com. |
Use the links below to get that new pair of chucks in your dreams.