"Anyone Else" by Joshua Bassett
Joshua Bassett is an American actor and singer best known for his role as Ricky Bowen on the Disney+ original show, High School Musical: The Musical: The Series. Originally from Oceanside, CA, the 19-year-old actor has also had parts in the TV series Lethal Weapon, Grey's Anatomy, and Stuck in the Middle. This year he's broken out on his own with the release of two singles, "Common Sense" and "Anyone Else". The music video for "Anyone Else" was released on July 16th, 2020, and has already amassed over 2.2 million views, an impressive feat for someone who hasn't even released an album yet.
Things are looking up for Joshua Bassett.
According to Bassett, the song came together fairly easily and was an easy choice to be one of his first singles when he signed with Warner Records. The song is a love song of sorts, but it's a love that's full of regret and pain. Joshua has fallen in love with someone that he shouldn't, and someone who can't love him back. This makes the song incredibly relatable as so many of us have fallen in love with someone we know doesn't or can't love us back. Bassett's vocal talent is undeniable, as he has a nasally yet smooth tone. The song is basically an acoustic song, with simple guitar strumming supplemented by hand claps
A modern-day fiddler on the roof in chucks.
The music video begins with the classic VCR screen that says "Joshua Bassett presents Anyone Else". This is very appropriate as Bassett directed and shot the video himself from home during quarantine. This also works with the VCR overlay, and overall the video has a very classic home movie vibe. Bassett spends the video playing his guitar around his home and neighborhood. For most of the video he's wearing a t-shirt, jeans, and black high top chucks, all of which fit with the video's casual mood. Joshua sings in the shower, on the street corner, in a pool, and even on his roof. Since he spends the whole video alone, Bassett's charisma is also on display, and it's easy to see why he's one of Hollywood's fastest rising young stars.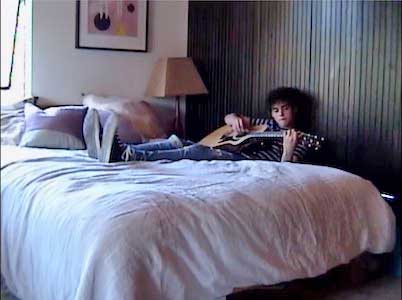 Joshua Bassett stays laid back in his black chucks in this music video.
| | |
| --- | --- |
| | If you have information about specific videos where chucks make an appearance, please contact us at mail@chucksconnection.com. |
Use the links below to get that new pair of chucks for your music video.