Drivers License by Olivia Rodrigo
Olivia Isabel Rodrigo is an American actress and singer. She's best known for her roles as Paige Olvera on the Disney Channel series Bizaardvark and Nini Salazar-Roberts on the Disney+ series High School Musical: The Musical: The Series. In High School Musical, her character played the role of Gabriella Montez, the character Vanessa Hudgens played in the films. She wrote and sang two of the show's signature songs, "All I Want" and "Just for a Moment". After her showing in High School Musical, Rodrigo was signed to Interscope records. "Drivers License" is her debut single and was released on January 8th, 2021 to near universal acclaim. The song amassed over 17 million global Spotify streams on January 12, 2021, the song broke the record for the most single-day streams for a non-holiday song on the platform. It's also shot to number one in multiple countries and has cemented Rodrigo as one of pop music's next big things.
Olivia Rodrigo wears black chucks as she looks for a love lost in this video.
This song is an emotional punch in the gut that then hits you with an uppercut with its melody and hook. Lyrically, the song follows Rodrigo as she drives through the suburbs, upset and angry, pondering whether any of her ex's feelings were real. The song is ethereal and atmospheric, with Rodrigo's vocals rising and following the melody. She has huge moments where she's able to howl and let out the pain, but the best moments are the quiet ones where you can hear her pain even clearer. The longing and pain are palpable in the song's bridge, and the image of driving past the house of someone you thought was the one is relatable to everyone. The sheer amount of skill it takes to pull off this song and to do it on your first single at the age of 17 clearly shows that Olivia Rodrigo is going to be making hits for a very long time.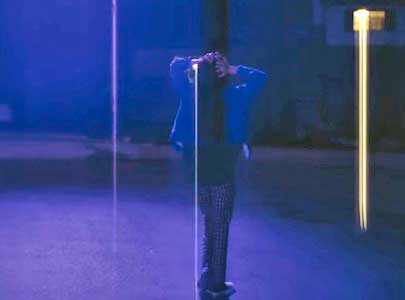 When you're lost and don't know where to go.
The music video is vivid and cinematic. Shot with a vignette aesthetic, the video shows Rodrigo healing from her heartbreak. We see her get her driver's license, but instead of going to her old lover's house like she thought she would, she ends up aimlessly driving through the suburbs. She wears chucks as she exits her car, but it doesn't appear to be anywhere near where her lover lives. She's just lost and alone. In the beginning, we see all the happy memories from Rodrigo's brief relationship, but as the song escalates and the video goes on, we see that it wasn't really love. The video is very reminiscent of another emotional teen experience that features chucks, the HBO show Euphoria. In fact a fan on Twitter cut the video with shots from the show and it fits perfectly. This is the perfect video for this song, and has already become something of a statement for Rodrigo, again showing that she will be a force for years to come.
Shining by street light.
| | |
| --- | --- |
| | If you have information about specific videos where chucks make an appearance, please contact us at mail@chucksconnection.com. |
Use the links below to get a new pair of chucks for your driver's test.