"Telling Myself" by Joshua Bassett
Joshua Bassett is an American actor and singer best known for his role as Ricky Bowen on the Disney+ original show, High School Musical: The Musical: The Series. From Oceanside, California, the 19-year-old actor has also had parts in the TV series Lethal Weapon, Grey's Anatomy, and Stuck in the Middle, but now may be more famous for the drama surrounding his love life. Bassett is the rumored subject of the biggest hit of the year, Olivia Rodrigo's "drivers license". His relationship and breakup with Rodrigo, and then relationship with Sabrina Carpenter led to a lot of drama between fandoms and that drama was addressed on "drivers license". As Bassett tries to climb out from this messy episode, he's doing it by releasing new music. The song "Telling Myself" was released on March 12th, 2021 and is the second single from his debut self-titled EP.
Joshua Bassett wears black high top chucks in this video.
The song is about a relationship that went south in a very bad way. The song follows Bassett as he recounts the relationship that was and tries to do so honestly. He can't tell whether or not what they had was love or even if they were happy. He questions why they stayed together and why they told themselves what they had was love. He also points out that while he was partly to blame, the girl in this story wasn't innocent either, perhaps alluding to the drama with Rodrigo and her version of what transpired between them. The music behind this story is very upbeat and very fast paced for what is ostensibly a break-up song.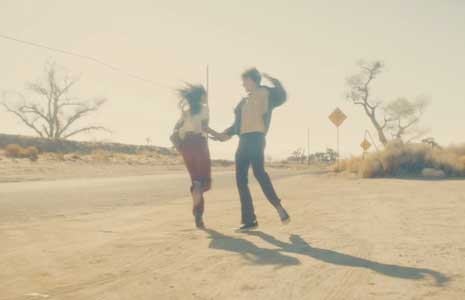 On the run in chucks.
The music video begins with Bassett and a girl holding hands in a dark room. They then step out into the saturated daylight of the desert where they appear to be hanging out at a gas station/diner. Josh has a retro rebel look going, with jacket, popped collar, brown pants, and chucks. Their wardrobes do give the video a kind of timeless vibe. They dance around the pumps, and then pull a Bonnie and Clyde and steal all the cash from the register. They hitchhike in the back of a pickup, kissing and throwing the money around the entire time. They end up at a motel where they hideout with their money and fall asleep without a care in the world. That is, until the police show up. The video is a little underwhelming when it comes to visuals and story, but it does tie in nicely with the story of the song detailing a toxic relationship.
Never rob a gas station diner in broad daylight in front of the owner.
| | |
| --- | --- |
| | If you have information about specific videos where chucks make an appearance, please contact us at mail@chucksconnection.com. |
Use the links below to get a new pair of chucks to start your life over.