"All Hands on Deck" by Tinashe
Tinashe is an American singer and actress from Lexington, Kentucky. Her acting career began at an early age with roles in films and TV shows like The Polar Express, Akeelah and the Bee, Avatar The Last Airbender, and Two and a Half Men. She began releasing music in 2012 with the release of her debut mixtape, In Case We Die. Since then, she has been steadily releasing music including the hit singles "Save Room for Us", "Player", "2 On", and "All Hands on Deck". "All Hands on Deck" was released in 2015 and was the third single from her debut studio album, Aquarius.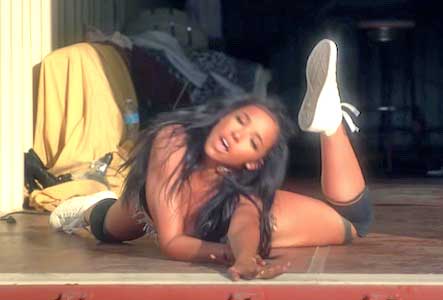 Tinashe wears all white high top chucks in this music video.
The song is a "crunk&B" song mixing together elements of West Coast hip hop, grime and late 1990s-early 2000s R&B. While the rest of Aquarius has a more sweet and coy sound, this track has a lot more attitude and edge to it. This is not only due to the music, but also Tinashe's delivery of the lyrics. She puts some oomph behind her vocals, while also maintaining her beautiful, smooth tenor and vocal quality. This combination of vocals and music really helps make the song stand out.
Striking a pose!
The music video takes place in a shipping container yard in Long Beach, California. This setting fits in with the grittiness and industrial sound of the track, and also ties into the song's title. There's also fire from smoke stacks and tires on fire, and all of these elements give this video a different vibe from Tinashe's other videos. Tinashe starts out in a shipping container, dancing and posing against the metal walls. She's wearing a black top, ripped shorts, and all white chucks, giving her that stripped down and edgy look that fits so well with the rest of the video. Tinashe is an incredible dancer, and her movements are utterly spectacular in this video. The best visual in the video comes when the camera gets a wide shot of the container's surrounding Tinashe's, and we see her backup dancers in containers of their own. They then perform a mesmerizing dance routine, with impeccable synchronization and it's the highlight of the video. Overall, this is one of Tinashe's Best, and shows off her immense talent in a visually stunning way.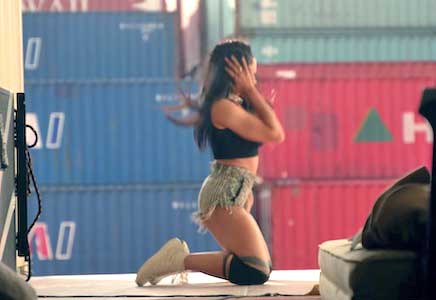 Tinashe's dancing ability is impeccable, and she is able to own it all on her own.
| | |
| --- | --- |
| | If you have information about specific videos where chucks make an appearance, please contact us at mail@chucksconnection.com. |
Use the links below to get a new pair of chucks to dance in.