"10/10" by Rex Orange County
Rex Orange County is a 23-year-old up and coming English recording artist and songwriter. Over the course of his short career, he has released one mixtape, Bcos U Will Never B Free (2015), and two studio albums, Apricot Princess (2017) and Pony (2019), as well as a live album titled Live at Radio City Music Hall (2020). Rex has made a loyal following through not only his own music but also by being a guest artist working with the likes of Tyler The Creator on his album Flower Boy. On September 12th, 2019, Rex released "10/10", the lead single from his third album Pony. Pony was his first major-label album release through RCA Records and peaked at #3 on the US Billboard charts.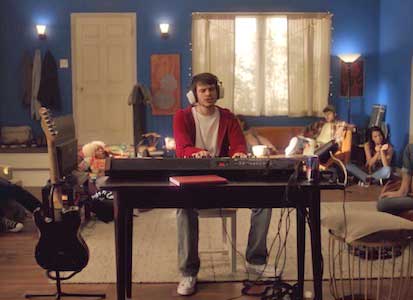 Canceling out the noise around him.
The song is about self-improvement and Rex aspiring to be a "ten". He waxes about how he's been a "five", but how he has some positive things going for him. He talks about his struggles and how they had him down, but how the positive aspects have helped him get through it. Rex has such a unique voice that is heartfelt and pained, and this really helps hammer home the song's lyrics.
Jamming out in the kitchen.
The music video begins with Rex sitting at his keyboard and putting on his headphones. He's wearing white chucks and a red hoodie, perfect for a lowkey day at home. His headphones cancel out the noise of everyone else in the house around him, as he starts playing the keyboard as the song starts. He then gets up from the keyboard and heads into the kitchen where he dances and sings with the headphones still on. He heads back into the living room, now clad in a yellow Spider-Man suit. There's a shirt dance break until the lights flicker and Rex is now jamming out on a guitar. He sits back down at the keyboard and ends the song by taking off his headphones. The sounds of the room and all his houseguests come in, as the video ends. This video is a great representation of the headspace one can get in when they focus on their art, which fits with the story of the song. Rex Orange County is always doing something different, interesting, and heartfelt, and this video is no exception.
Rex Orange County wears white chucks in this music video.
| | |
| --- | --- |
| | If you have information about specific videos where chucks make an appearance, please contact us at mail@chucksconnection.com. |
Use the links below to purchase a new pair of chucks that will make you a "ten".