"Figures (Live)" by Jessie Reyez
Every artist has a song that is perfect for them. That one song that comes along into the recording booth that you put your heart into and ends up being the song that defines your career. You'll have other hits and better songs, but there's that one song that's just "yours" and what people will always hear when they think of you. For Jessie Reyez, that song is "Figures", the 2017 hit that was first released as part of her debut EP Kiddo, and was later added to her debut studio album Before Love Came to Kill Us in 2020. There's been a few versions of this track over the past few years. There's the original that features Reyez alone, the "reprise", which is a rework of the original that adds a verse from Daniel Ceasar in the middle, and this live version for Vevo. No matter the style, her voice and image perfectly fit this song about love and heartbreak.
Jessie Reyez is always raw and powerful.
The video is part of a live series of performances Reyez did with Vevo to promote her album Before Love Came to Kill Us. The video is set at a dusty motel somewhere in the Southern California desert. The camera pans down to Reyez sitting on the hood of a classic car, wearing her usual baggy tee shirt and grey high top chucks. She's surrounded by a string quartet, and later a piano. Reyez begins the song on acoustic guitar, playing while still on the car sitting cross-legged. As she leaves the guitar behind, the quartet and piano come in to carry the rest of the song.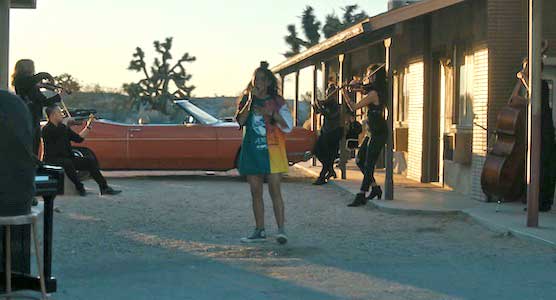 Reyez is accompanied by a string quartet during this live performance.
This setting and performance setup gives the whole performance and song an air of finality. Reyez appears to be someone who's going through an emotional struggle alone and is at her wit's end. She's isolated having been driven to a dingy, desert motel and the string quartet is almost invisible around her. It also helps that Reyez, as per usual, gives every ounce of emotion to this performance, which makes this version of "Figures" quite possibly the best.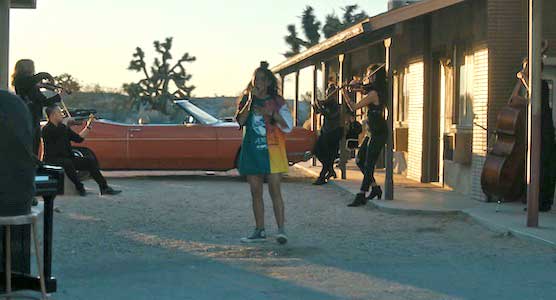 Jessie Reyez wears her signature baggy clothes and high top chucks in this video.
| | |
| --- | --- |
| | If you have information about specific videos where chucks make an appearance, please contact us at mail@chucksconnection.com. |
Use the links below to purchase a new pair of chucks to improve your emotional well-being.