"Fight for Your Right" (Revisited) by Beastie Boys
The Beastie Boys are one of the greatest groups in rap. Consisting of three New Yorkers: MCA, Ad-Rock, and Mike D, the group was one of the first mega acts of rap. They were the first rap group to top the Billboard 200, and their 1986 debit album Licensed to IllI is iconic. The group has been so acclaimed throughout their careers, always pushing the boundary and trying to add something new to their repertoire. Their last album Hot Sauce Committee Part Two features the track "Make Some Noise" which is the third release from the album. The album's experimental sound is perfectly personified in this track and the video that accompanied it, "Fight for Your Right (Revisited)".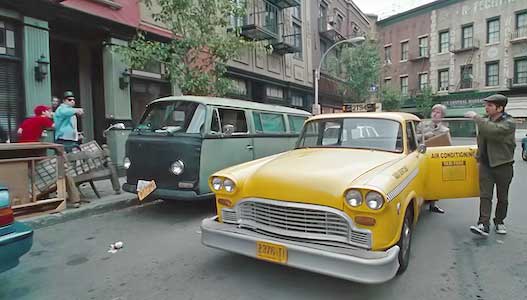 The Beasties cause a lot of chaos in this video, including throwing beer at Adam Scott's cab.
The music video is a half hour short film that serves as a sequel to the Beastie Boys' classic 1987 hit song and video "Fight for Your Right (To Party!)", and was created to commemorate its 25th anniversary. The video takes place immediately after the end of the original video, with the boys stumbling out of the party they were just in. They head downstairs to a bodega and break in to get more booze. As they stumble past the broken window, "Make Some Noise" kicks in and we get a classic Beastie Boys shot where they rap into the camera directly.
Kick it!
Chaos ensues throughout the rest of the video until the Beastie Boys from the future arrive in a Delorean. A dance battle takes place until the cops show up (portrayed by the actual Beastie Boys) and arrest both groups. Mike D, Ad-Rock, and MCA are portrayed by Seth Rogan, Elijah Wood, and Danny McBride respectively, while their future selves are portrayed by John C. Reilly, Will Ferrell, and Jack Black. The video also features a slew of cameos from too many celebrities to count, some of which wear chucks to fit in with the overall 80's street look. This is a classic Beastie Boys video and is a fitting way for the group to go out after the tragic passing of MCA.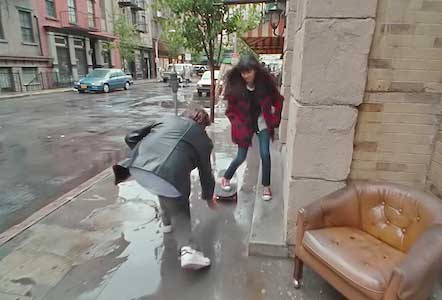 This board now belongs to MCA.
| | |
| --- | --- |
| | If you have information about specific videos where chucks make an appearance, please contact us at mail@chucksconnection.com. |
Use the links below to purchase a new pair of chucks to celebrate your anniversary.