"In Hell I'll Be In Good Company" by Leo Moracchioli
"In Hell I'll Be In Good Company" is a song by the Canadian folk-bluegrass group The Dead South. Originally released in 2014 on their debut album Good Company, the song gained widespread popularity with the release of its music video in 2016. With over 277 million views, the song was bound to inspire some covers. One cover that stands out in particular is from metal artists Leo Moracchioli. Released on September 17th, 2021, this heavy metal version of the song has already amassed over 1 million views on Youtube.
The bunny wears grey chucks in this music video.
This song's lyrics are very dark. They tell the story of a man who murders his cheating wife and is looking forward to being with her in hell. The graphic yet poetic lyrics really hammer home the old school darkness that's common in so many folk songs. While the original was arranged in a southern folk manner, this version by Moracchioli is arranged as a heavy metal cover. This heightens the darkness and dread of the song, while also offering a more angry look at the story. Whereas the original is haunting, this version is rage filled and mean. This is a great example of putting your own spin on a well beloved song while still keeping the original meaning and story intact.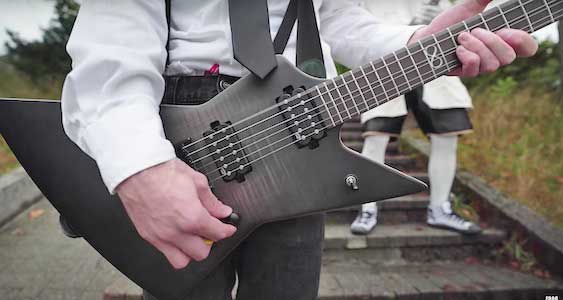 A beaut of a guitar.
The music video is meant to mimic the original famous video by The Dead South. In that video, the group stood in place as the background changed from place to place. The little movement they did was limited to snapping and stepping in place. This version also features an ever changing background, but Moracchioli is far more animated in his movements from scene to scene. This fits in with the more upbeat and driving music of this cover. Moracchioli is joined by the Frog Leap Bunny, a man in a bunny suit wearing a fancy jacket, bowtie, boxing shorts, and grey high top chucks with all black toe caps and foxing. The bunny's crazed face offers another unique visual aesthetic to this video, and his general creepiness fits in with the dark nature of the song. Overall, this is an interesting and well done take on what's quickly become a classic song, and shows how a good folk song can fit into any genre.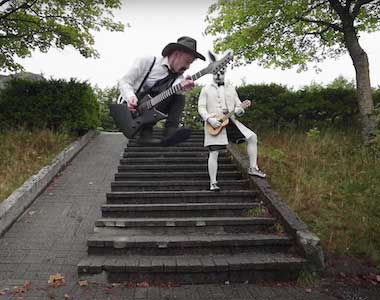 Shredding in midair!
| | |
| --- | --- |
| | If you have information about specific videos where chucks make an appearance, please contact us at mail@chucksconnection.com. |
Use the links below to purchase new pairs of chucks for your band.