"Louder Than Words" by Jonathan Larson
tick, tick...BOOM! Is a film by theater people for theater people. Directed by Lin-Manual Miranda and based on the late, great Jonathan Larson's life and rock monologue of the same name, the film was released on November 12th, 2021 to much critical acclaim and adoration from the theater community. The film embraced the wonderful world of theater and all the hard work, dedication, and heartbreak that goes into making art. So it is only fitting that in the film's promotional campaign that it would again embrace the world of theater, this time propping up the next generation of artists.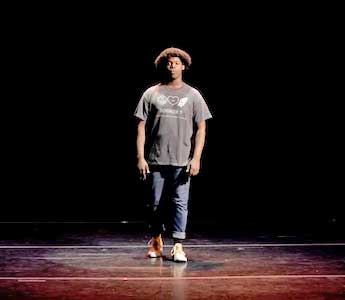 High top chucks take the spotlight in this great shot.
The music video for "Louder Than Words", one of the signature songs from the film, features young performing arts students from across the country performing the song together. The participating high schools include the Booker T. Washington High School for the Performing & Visual Arts in Dallas, Texas, Baltimore School for the Arts in Baltimore, Maryland, The Chicago School for the Arts in Chicago, Illinois, Los Angeles County High School for the Arts in Los Angeles, California, and TADA! Youth Theater in New York City. They each perform at their high school and their shots are cut together to make up the music video.
Platform chucks make an appearance in this video.
The video starts with Lin-Manuel Miranda introducing the video, stating how he got his start in the world of theater at a performing arts school and stressing how important it is to support the next generation of artists. Then a black screen shows all the participating schools, followed by some establishing shots that show off their campuses. The song then begins and we hear the voices of various students performing. There are soloists and ensemble portions, but we mostly focus on the voices of ten or so kids. Throughout the video, we also see that many of these kids are wearing chucks. There are classic chucks, yellow chucks, even platform chucks. The video also includes Andre Garfield's performance of the song from the film in a few key moments, which helps just tie it all together. This video is not only a great tribute to the film and the impact of theater but also to Jonathan Larson, showing the impact of his work nearly thirty years after his passing.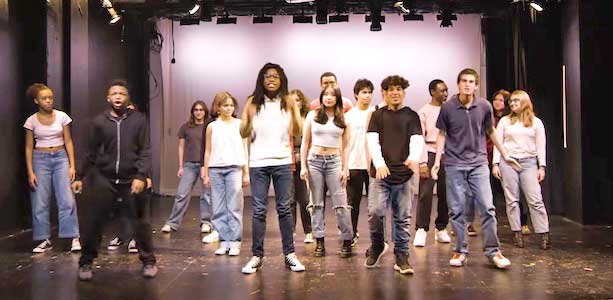 So many young artists wearing chucks in this music video.
| | |
| --- | --- |
| | If you have information about specific videos where chucks make an appearance, please contact us at mail@chucksconnection.com. |
Use the links below to purchase a new pairs of chucks for your musical appearance.