"Crisis" by Joshua Bassett
Joshua Bassett is an American actor and singer who is best known for starring as Ricky Bowen in the Disney+ show, High School Musical: The Musical: The Series. From Oceanside, California, the twenty-year-old actor has also had parts in several TV shows and films. He's also been the subject of plenty of tabloid fodder, as he is reportedly the subject of Olivia Rodrigo's mega-hit single "driver's license". Bassett has also been releasing a steady stream of music, with his self-titled, debut EP releasing in March 2021, and another on the way. The song "Crisis" was released on December 2nd, 2021, and has already amassed over four million views on Youtube.
The video opens with this shot of Bassett's guitar and chucks.
The song is an acoustic track and really focuses on Bassett's vocals and lyrics. Those lyrics tell his side of the "driver's license" story and his breakup with Rodrigo. He recounts how he was pressured by his label to respond to the song, and how hurt he's been. He talks about how he did love her despite what she has said all over her album Sour, and how he's been made out to be the bad guy. This has led to him getting death threats while her career soars. There is a lot of pain behind Bassett's vocals and you can almost hear a sense of defeat. He really does seem heartbroken with how this whole situation has played out. He finishes by saying she would never dare to waste a crisis, which is a very scathing dig.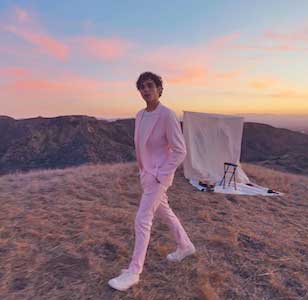 This video is shot in one take at sundown.
The music video opens with Joshua Bassett sitting on a stool with his acoustic guitar. He's situated on top of a dry, grassy hill and wearing a pink suit and white high top chucks. The video is shot in one take, with Bassett dropping the guitar and getting right up in the camera's face. He then walks over to a makeup station and continues to sing as the camera moves around him. He gets up once more and walks around the hilltop as the sun sets around him. The video is impressive because of the one take nature, especially since it's filmed at sundown. The intimate nature of the video also fits well with the lyrics and vocals.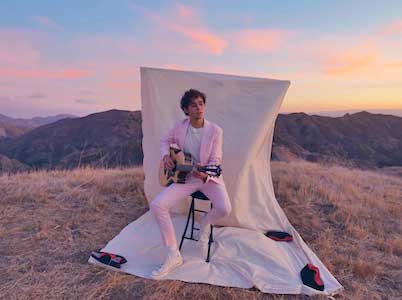 Crisis at the golden hour.
| | |
| --- | --- |
| | If you have information about specific videos where chucks make an appearance, please contact us at mail@chucksconnection.com. |
Be ready for your next crisis with a new pair of chucks.