"favorite crime" by Olivia Rodrigo
Olivia Rodrigo had an amazing 2021. She began the year with the release of her debut single, "drivers license" on January 8th, which quickly became a pop-culture juggernaut. It not only launched Rodrigo's music career, but it also dominated the charts, inspired SNL skits, and went quadruple platinum. She then followed that up with similarly huge hits "deja vu" and "good 4 u", and the release of her debut album, Sour. All while starring in the second season of the Disney+ series High School Musical: The Musical: The Series. Now a bonafide megastar at the young age of 18, Rodrigo is poised to be a force in the music world for a long time. Her song "favorite crime" is the tenth track off Sour, and peaked at number 16 on the Billboard Hot 100 despite never being released as a single.
This backup singer wears white chucks in this music video.
The song is a short, stripped-down folk-pop and indie-pop ballad, and features Rodrigo singing over a fingerpicked guitar. The actual lyrics of the song center around glaring red flags that only appear in hindsight but show the other person's true colors in the end. The song has been aptly compared to Taylor Swift's 2020 duel albums Folklore and Evermore, which makes sense since Rodrigo herself draws huge inspiration from Swift.
Just chilling on the roof.
The video begins with Olivia sitting in front of her bedroom mirror as she pulls a microphone up to her face. She begins singing with a guitarist accompanying her as the camera follows her out the bedroom window and onto the roof. There her backup singers are waiting for her and one of them is wearing white chucks. They sit in the golden light of the sunset and sing their perfect harmonies as Olivia and the guitarist join them. They all spend the rest of the video on the rooftop as the song ends. This is the first performance of the track and Rodrigo absolutely nails it, showing how she is a total star in the process. The low-key video perfectly fits with the folksy composition of the song and showcases Rodrigo's vocals and star power.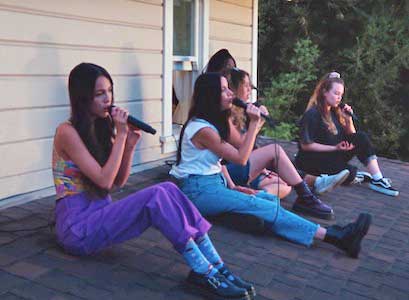 Rodrigo is an absolute star in this video.
| | |
| --- | --- |
| | If you have information about specific videos where chucks make an appearance, please contact us at mail@chucksconnection.com. |
Improve you life with a new pair of chucks.