"Especially You" by Wallows
Wallows is an American alternative rock band from Los Angeles composed of Dylan Minnette, Braeden Lemasters, and Cole Preston. The band began releasing songs independently in April 2017 starting with "Pleaser", which reached number two on the Spotify Global Viral 50 chart. They then signed with Atlantic Records in 2018 and released their major-label debut EP, Spring. Their debut studio album, Nothing Happens, was released in 2019 and was followed by another EP, Remote, in 2020. The band is set to release their sophomore album, Tell Me That It's Over, on March 25, 2022, and the second single from that album was just released. The track, "Especially You", was released on February 3rd, 2022 with a music video.
The first shot of this video features Dylan Minnette's black chucks.
The song is very alternative and indie-pop in sound, with lyrics that talk about the confusion that comes with new love. The singer talks about how he is absolutely infatuated with this person, but he can't comprehend not being with them. He stays up all night thinking about what they said and now his eyes are red because some things leave him confused but "especially you". It's a cute song that is very catchy and does a good job showcasing the band's unique charm.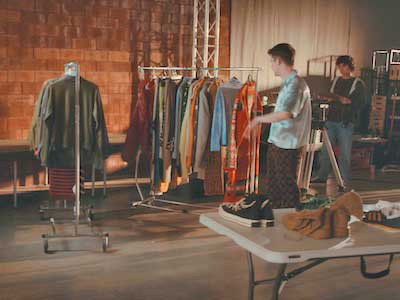 An extra pair of chucks sits on this table.
The video begins with the three band members walking down a flight of stairs into an open studio space. Dylan Minnette is wearing black low top chucks (similar to how he wore them in the Netflix show 13 Reasons Why), and the group is getting ready for some photoshoots and a music video. The band also portrays all the crew members around them, which offers some funny visuals as they hand themselves wardrobe changes and offer directions during the photoshoots. The band eventually makes their way over to a pink backdrop where they pick up their instruments and play the song for the music video within the music video. The song ends, and the crew made up of themselves gives the band a standing ovation to close out the video. The way the video is shot and edited together is really cool and well done and again offers some great visual gags.
So many options but the chucks stay on.
| | |
| --- | --- |
| | If you have information about specific videos where chucks make an appearance, please contact us at mail@chucksconnection.com. |
Get a new pair of chucks to wear at your photo shoot.