"N95" by Kendrick Lamar
King's back. Simple as that. Kendrick Lamar has returned from a five-year hiatus to drop a new album, Mr. Morale & the Big Steppers. This will be K.Dot's final album with Top Dawg Entertainment, the label he signed with as a teenager in 2003. This release marks an end to one phase of Kendrick's career, and with that comes an album loaded with heavy themes and messy messages. The highs on this album are incredibly high and feel like Kendrick at his best, but it is mixed in with some subpar(for him) moments that don't really hold up. However, with that being said, this album is still great and shows how even when not at his best, Kendrick is still better than everyone else.
King Kendrick.
The song "N95" is the lead single off this album and is one of the best tracks off the album. Kendrick utilizes much of the same fiery flows that he unleashed on his last album, DAMN. He has some of his best bars from the whole album on this track, all the while deconstructing the current culture of designer and false idol worship. He asks the listener to remove the superficial facades and coping mechanisms they've acquired over time, likening it to wearing designer masks rather than N95's. He ponders what is left underneath, and comes to the conclusion that it's ugly. However, this theme is not limited to the listener but to Kendrick himself. On this song, and this whole album, he is very vocal about his stature in both music and the culture at large. He shys away from the "messiah" mantle that's been placed upon him, and the calls for him to be "the voice of a generation". It's all idol worship for someone who admits he is deeply flawed, and he asks us to examine why we put that in him.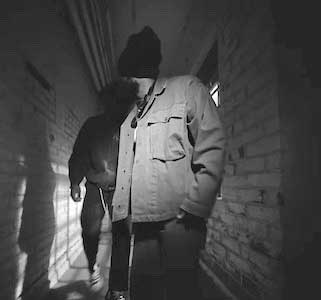 Baby Keem also wears chucks in this video.
The music video was released on May 14th, 2022, the day after the album dropped. It was directed by Lamar himself and Dave Free. The video begins with the words "This Sh*t Hard" in big red capital letters as the camera pans across a beach to Lamar floating over the water in a Christ-like pose, visualizing his status as a "false" idol. The video then cuts almost as quickly between scenes as Kendrick switches up flows. We see him and his cousin Baby Keem running down a hallway, Lamar working out alone on a rooftop, him in bed with a woman, and then playing piano alone. Ashe answers a payphone and asks a bunch of questions at the end of the third verse. We see he's wearing a pair of black chucks, which makes sense since his company PGLang just started collaborating with Converse recently. The video features Kendrick's signature visual style and penchant for incredible visuals, and fits with the thematic direction of the song and album very well.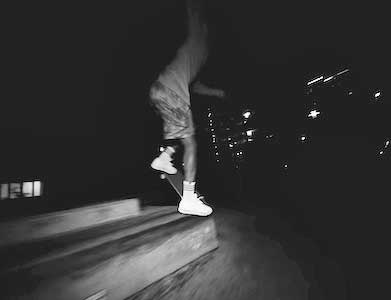 Sk8tr Boi.
| | |
| --- | --- |
| | If you have information about specific videos where chucks make an appearance, please contact us at mail@chucksconnection.com. |
Get real with a new pair of black high top chucks.