"Make It To Christmas" by Alessia Cara
It's hard to write a new Christmas classic. So many songs like "White Christmas", "Silent Night", "Rudolph the Red-Nosed Reindeer", and "Frosty The Snowman" are engrained in pop culture that it can be near impossible to create a song that reaches that level. The last one you can point to is Mariah Carey's "All I Want for Christmas" which has gone from cult classic to part of everyone's Christmas playlist since its release. Despite this, artists create new Christmas songs every year to try and make the impossible happen. In November 2019, Alessia Cara attempted just that by releasing her single "Make It to Christmas" just in time for the holiday season.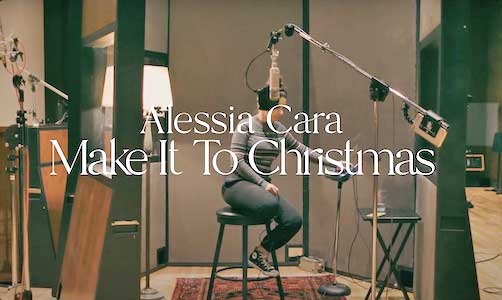 The first shot of the video is of Alessia Cara in her black high top chucks.
The song uses a few well-known Christmas instruments to make it feel Christmas-y including bells and chimes. You hear these instruments in many of the most beloved Christmas songs of all time so it makes sense to use them here too. The song is actually kind of bleak when you look at the lyrics. Alessia says that she knows this love has gone cold and that it's not what it used to be, but she like most of us does not want to spend the holidays alone, so she hopes they can make it to Christmas. This is a different take on a holiday romance and it's actually welcomed because many of us do end up in relationships for the season because we don't want to be alone.
Alessia turns up the audio in her headphones.
The music video is a low key visual filmed in the studio while Alessia recorded the song. She's wearing a cozy grey sweater, black pants, and black Chuck Taylors. She's sitting in the vocal booth as she records her vocals throughout the song, and we also see her head into the control room to give notes. She works with the production team throughout the video to craft the song, and it really shows Alessia's musicality and talent. The video also uses a film grain filter that gives it this home video vibe. The video does have a severe lack of Christmas theming though. Really the only thing slightly wintery is Alessia's sweater. Even just a Christmas tree and some lights adorning the studio really could have helped this video in the Christmas vibe department. Otherwise, it's a perfectly nice music video that shows Alessia Cara doing what she does best: singing.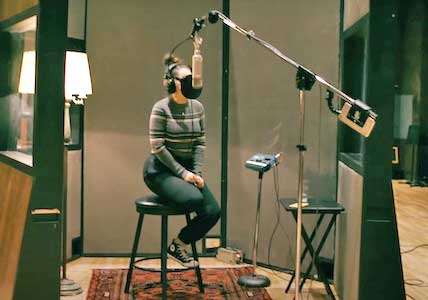 Alessia wears a cozy sweater and black high top chucks in this video.
| | |
| --- | --- |
| | If you have information about specific videos where chucks make an appearance, please contact us at mail@chucksconnection.com. |
Get a new pair of black high top chucks for the holidays.