"Banga! Banga!" By Austin Mahone
It's a bird! It's a plane! It's Justin Bieber! No…it's Austin Mahone! You may have just heard the soft sound of screaming in your home—don't worry. That's just preteen girls from all over the world screaming at the mention of his name. With his ability to dance, deep relationship with auto tune, and shaggy hair, this guy is pretty much Justin Bieber 2.0, except he has yet to get arrested for drugs and drag racing. Still relatively new to the pop scene, his songs are slowly popping up on the radio, like the ever so catchy "Mmm Yeah". Following the trend having such quality song titles, is his poppy tune "Banga! Banga!"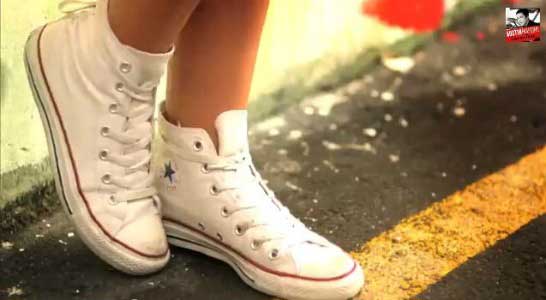 A close up of the love interest's chucks.
What is a "Banga! Banga!" you might ask? Well…we aren't quite sure so we just go with it. Especially because the music video is pretty entertaining. It's your stereotypical teeny bopper heart throb type video, but with its urban setting and fun in the sun type scenes, you'll find yourself at least mildly captivated. There are no complex, artsy effects, just a guy and his girlfriend having a fun day together.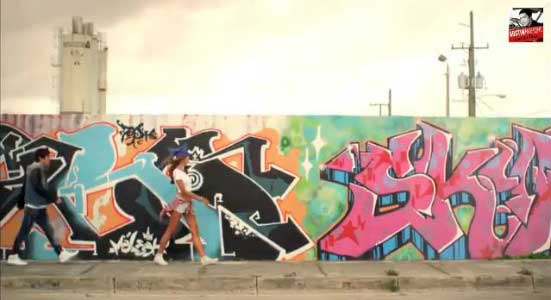 Austin Mahone chasing behind his girlfriend as they head to their next destination.  
Austin Mahone shows off his dance moves in between clips of him chasing around a pretty brunette dressed in a cute, casual outfit, completed with white high top chucks. They take a romantic night time date to a skate park, they ride around town in a jeep, and they hang out in front of a very colorful graffiti covered wall. It's simple, it's not anything unique, but it's happy and will leave you with a song stuck in your head and a smile on your face.
Having fun in their jeep.  
| | |
| --- | --- |
| | If you have information about specific videos where chucks make an appearance, please contact us at mail@chucksconnection.com. |
To get yourself a pair of chucks to banga banga around in, click on the links below.