"American Pie" by Jade Bird
The song American Pie is one of the most famous songs of the last fifty years and has left an incredible legacy. There have been humorous parodies, covers, and instances of the song used in popular culture. Up-and-coming English folk artist Jade Bird looks to add her own mark to the legacy of this song with her own cover. Released on July 1st, 2022, the song was accompanied by a music video on Jade Bird's Youtube channel..
This video takes place in a music studio where the band records the song live.
The lyrics to "American Pie" have been studied and dissected since its release fifty years ago. The key to the song is the repeated phrase "the day the music died", as this is a reference to the day that Buddy Holly, the Big Bopper, and Ritchie Valens tragically died in a plane crash. The song then has many allusions and references to the major events and icons of the following years, showcasing the loss of innocence of McLean's generation. Her take on the song is very different from McLean's. Jade Bird tends to hang on her notes for longer so the phrases drag out a bit more than in the original. Her vocals also give the song a different emotional tone, as she gives a very driving and energetic performance. This is in contrast to McLean who is somber and mournful over the song's subject matter. His tone tends to fit better with the deeper meaning behind the song's lyrics, but taken at face value Jade Bird's more up tempo tone does fit in her version.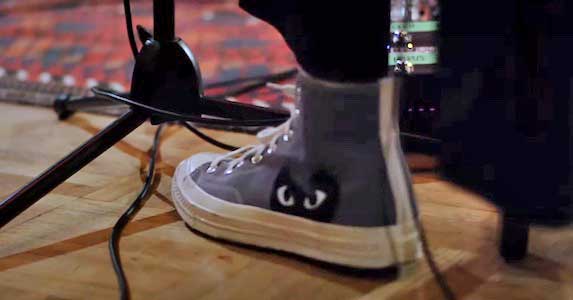 "You both kicked off your shoes."
The video is actually footage from the documentary "The Day the Music Died: American Pie" which celebrates the 50th anniversary of the song. The video is a very laid-back and sparse set up. Filmed in a large music studio with the backing band, Jade is seated with her guitar and plays alone to start. The camera shows her band watching as she sings the first verse alone, and we see that her electric guitarist is wearing grey Comme des Garçons chucks. After the first verse, the energy in the room picks up and the whole band joins in. They perform the rest of the song with some B-roll of the session stitched in. Overall, it's a perfectly fine video that shows Jade's artistry and puts her in a natural environment where she can be herself.
Jade's electric guitarist wears grey Comme des Garçons chucks in this video.
| | |
| --- | --- |
| | If you have information about specific videos where chucks make an appearance, please contact us at mail@chucksconnection.com. |
Get a new pair of chucks for your next recording session.