"Love Has All Been Done Before" by Jade Bird
Jade Bird is an up-and-coming English folk artist who has been writing songs since she was a young girl. In her final year at BRIT School, she recorded a demo that led to a management deal. This was followed by her signing to Glassnote Records, and in 2017, she released her first EP, Something American. In 2018, she released the song "Lottery", which topped the Adult Alternative Songs, and she followed that with the release of her eponymous debut album. The song "Love Has All Been Done Before" is the third single off that debut album, and was released with a music video on November 26th, 2018.
Jade Bird and the band perform in an old house.
Jade Bird has an incredible voice. There's a lot of fury and passion in her vocal performance here and its paired with a gentleness on three verses. She goes from very tender to super intense and it works so incredibly well. The song is about this person that Jade is involved in being, this great person, yet still kept at a distance. She sings, "You are sweet and you are nice/ keep me calm and satisfied/ But I need something, something more/ 'cause love has all been done before." She needs more than a perfect person and she needs more than just love.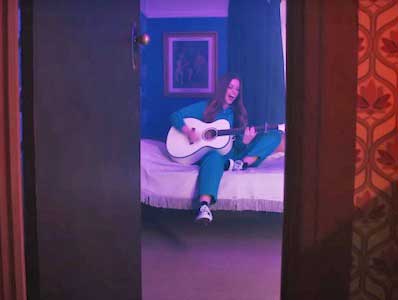 Purple haze.
The video is filmed in a very small house which gives Jade Bird and the backing band a larger than life appearance. The band starts out in what appears to be a living room with Jade in front strumming a gorgeous, white acoustic guitar. Jade wears a blue body jump suit through the whole music video and pairs it with a pair of black chucks, which actually work really well with the jump suit. After the first verse and chorus, the camera pans out of the room, through the hall, and into the washroom in what appears to be one shot. Jade folllows the camera and at times somehow passes it without being seen. The camera then pans back to the stairs where Jade continues to rock out, and finally the video ends up upstairs where the band and Jade play in brightly color lit rooms. The camera movements and the odd proportions of the house make the video feel dynamic but intense and Jade keeps the energy with her performance. She looks like a star throughout and here's hoping bigger things are in her future.
Jade Bird head bangs in her chucks.
| | |
| --- | --- |
| | If you have information about specific videos where chucks make an appearance, please contact us at mail@chucksconnection.com. |
Get a new pair of chucks for your next recording session.