"BIG TIME" by DJ Khaled
Featuring Future & Lil Baby
DJ Khaled has been around for a while now, and he's done little to surprise anyone lately. His music is what it is, and while he has hits here and there, his style has gotten stale and old. "BIG TIME" is the fourth track from DJ Khaled's thirteenth studio album, GOD DID. Here the producer reunites with previous collaborators, Atlanta rappers Future and Lil Baby.
DJ Khaled up front as usual.
The song is a DJ Khaled song through and through. It has all the hallmarks that one would associate with a DJ Khaled track. From the start, there are the shoutouts of We The Best Music and then himself as the beat builds up to the drop. The beat comes in and Future hops on the chorus talking about how he is "big time". This is the central theme of the song is how Future and Lil Baby have both made it to the big time, and now can boast about their cars and women. Not a particularly deep message, but again, it's what you'd expect on a DJ Khaled track. The beat itself isn't anything new or exciting from Khaled either, just a hyped generic trap beat. This is a totally skippable song that will come and go quickly.
Big steps leading to the big time.
The video is a typical DJ Khaled video, for better and worse. It starts with We The Best Music flying across the screen as the camera zooms past monkeys and tigers en route to a jungle mansion. The mansion is, of course, filled with scantily clad models and DJ Khaled shirtless in a tub drinking champagne. He says his catchphrase (aka his name) and the video truly begins. Suddenly there's everything that you'd expect in a DJ Khaled video: girls, cars, bling, and sponsorships. In front of this jungle compound, Future jumps into the chorus flanked by Khaled and Lil baby. Lil Baby is iced out and wearing chucks throughout the video. Future and Baby trade verses while Khaled "dances" around them and shots of booze and models are interstitched. This video breaks no new ground and is no different from every single DJ Khaled from the content to how it's shot. This video, like the track it visually represents, is totally skippable.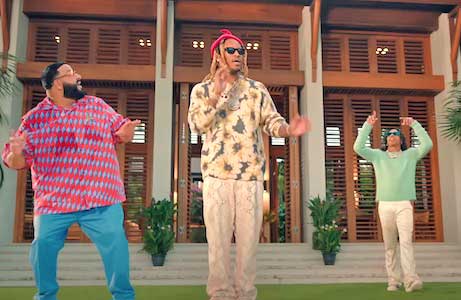 Lil Baby wears gray chucks in this video.
| | |
| --- | --- |
| | If you have information about specific videos where chucks make an appearance, please contact us at mail@chucksconnection.com. |
Get a new pair of chucks so you can sport the big time look.