"I Don't Want to Grow Up" by the Ramones
The Ramones are the godfathers of punk rock. Formed in Forest Hills, Queens in New York City, the band consisted of four members who adopted pseudonyms ending with the surname "Ramone": Joey, Johnny, Dee Dee, and Tommy. While the band was never a chart-topper, they've gained significant recognition over the years for their contributions to the punk genre, including being ranked number 26 in Rolling Stone magazine's list of the "100 Greatest Artists of All Time". The song "I Don't Want to Grow Up" was originally written and recorded by musician Tom Waits, and is the first song off the band's final album, ¡Adios Amigos!. The song went on to become a minor hit for the band, a feat considering their long history of not charting on the Billboard charts. It was even used in the end credits for the 2019 DC film Shazam!.
Johnny Ramone's chucks as seen in the top comic panel.
It's understandable why the Ramones wanted to cover this song. The story of not weaning to grow up because of the world we live in is so in-tune with the punk lifestyle and ideals the Ramones exemplified. The simple chord structure also made this song a perfect fit for their punk rock sound, even though the original Waits version is more grungy folk. The Ramones version is driving and really fits the mood of disenfranchised youth so much better.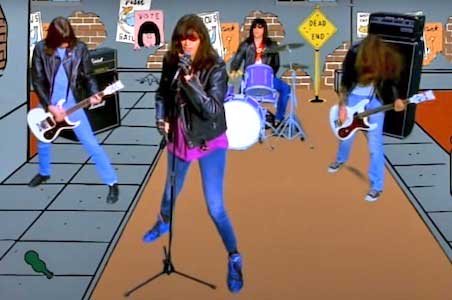 The Ramones in all their glory.
The video features the Ramones superimposed over an animated comic book background. These animations are very simple but they give the video such a visual pop. They center around a kid who doesn't want to grow up. He watches TV, experiences the world around him, and decides it isn't worth it to grow up. Meanwhile, the Ramones rock out in different panels as the backgrounds change behind them. Johnny Ramone is wearing black chucks in this video which is fitting given the groups standing as the first punk rock group and the connection chucks have with the genre. The animated kid is also wearing chucks, which helps show how he's a stand-in for the band here. This video has super fun and exciting visuals and is very 90s rock.
Katie and her friends walk toward their futures.
| | |
| --- | --- |
| | If you have information about specific videos where chucks make an appearance, please contact us at mail@chucksconnection.com. |
Get a new pair of chucks to wear in tribute to the Ramones.