"Repeat Stuff" by Bo Burnham
Bo Burnham might be one of the most talented artists we have today. With humble beginnings starting out on YouTube in 2006, the comedian, writer, director, and actor has done so much over the past sixteen years. His standup specials in the early 2010s featured incredibly funny and catchy songs that have become iconic since release, even as he stepped away from standup in 2016. His films have also garnered widespread acclaim, including his directorial debut, Eighth Grade (2018). His return to standup last year, Inside, was a massive hit and beloved by fans everywhere featuring many more hilarious and catchy songs. The song "Repeat Stuff" was originally performed as part of his hour-long comedy show, what., and was then released on Youtube as a music video on September 24th, 2014.
Just some fun kids having harmless fun, nothing evil going on here!.
This song is a parody and critique of modern pop songs. In a testament to the emptiness and vanity of modern love songs, Bo expertly crafts something you could totally see a modern pop artist releasing. He sings in platitudes and repeats the phrase "I love you" over and over. However, because this is a comedy song, Burnham laces lines with jokes and double meanings that show how behind all these milquetoast platitudes, modern pop songs are about one thing: sex. Fun fact: when this song was performed at the special, Justin Bieber was in the audience.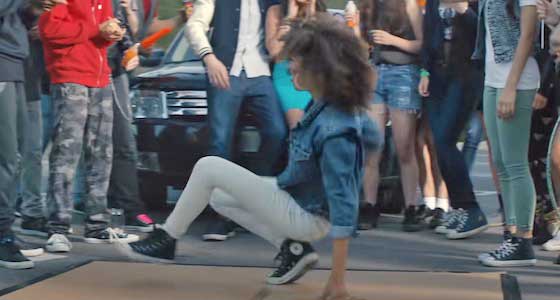 Many of these way too happy extras wear chucks in this video.
The music video begins with Burnham giving a condensed version of the intro from his standup special. He then goes into the song, singing with a girl on his arm in front of a nice car surrounded by extremely happy extras. He's dressed in a letterman jacket to really sell home how wholesome this all is. The extras are even wearing chucks and dancing! There are so many jokes in Burnham's performance that you really just need to watch the video because writing them here wouldn't do them justice. There's also a hilarious dark twist that really sells how messed up the whole pop music chain can be. This is just one of Bo Burnham's hilarious videos, so I recommend falling down the YouTube rabbit hole and going through as many as you can for a good laugh.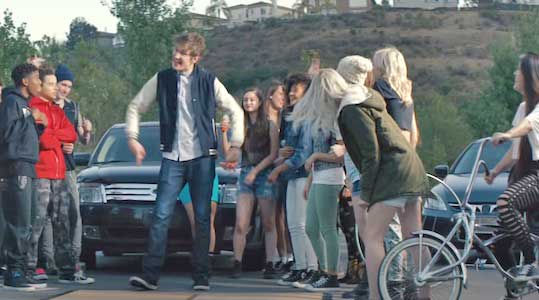 What a wholesome boy!
| | |
| --- | --- |
| | If you have information about specific videos where chucks make an appearance, please contact us at mail@chucksconnection.com. |
Lace up a pair of chucks to make yourself happy.