"My Motto" by Jade Bird
Jade Bird is an up-and-coming English folk artist who has been writing songs since she was a young girl. Her style blends her powerful vocals and witty lyrics with the sounds of Americana, folk-rock and pop music. After signing to Glassnote Records in 2017, she released her first EP, Something American. In 2018, she released the song "Lottery", which topped the Adult Alternative Songs, and she followed that with the release of her eponymous debut album. The song "My Motto" is the fourth single off that album and was released March 13th, 2019 along with a music video.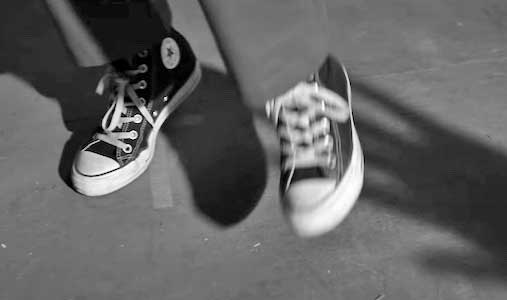 Jade Bird wears chucks in this video and the black and white aesthetic really makes them pop.
The song is about bad relationships and the breakups that follow them. Throughout the song, Jade details how she gets through these breakups and how important it is to take off the rose colored glasses and see the reality that they aren't worth the heartbreak. She knows she'd be "stupid" if she still wanted to be together and that love isn't supposed to hurt this way. So her motto is to move on cause the pain and the sorrow will be gone tomorrow. Jade's vocals are a bit more vulnerable than usual here, and she is accompanied through most of the song by only a piano.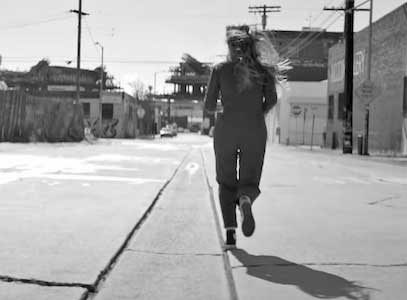 Running away from your problems.
The music video is shot in black and white which creates a cool visual. The video starts as a continuation of the video for "I Get No Joy". Jade gets out of the car of that video after having apparently run someone over. As the crew checks on the person, Jade turns and starts walking away from the scene as the music kicks in. After reaching out her hand to a shadow, Jade runs away through the alley and into an abandoned warehouse. As she makes her way through the decrepit hallways and rooms of this warehouse, the shadow catches up and begins reaching out for Jade in the sunlight. With nowhere else to turn, she lets herself fall off the upper levels. The video cuts and ends with the video returning to color and Jade's stunt double getting out of the airbag she just fell into and hugging Jade. The video's use of sunlight and shadows tells its story well. Jade also wears chucks throughout the video, which are part of her style, and they are quite striking in black and white.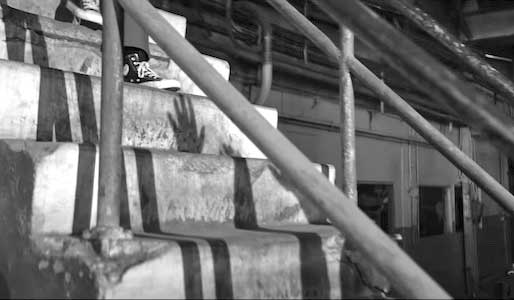 The shadow reaches for Jade and her chucks.
| | |
| --- | --- |
| | If you have information about specific videos where chucks make an appearance, please contact us at mail@chucksconnection.com. |
Lace up a pair of black high top chucks to make yourself happy.