"Activated" by Mount Westmore
Mount Westmore is a hip-hop supergroup that was founded in late 2020. It consists of four all-time, legendary rappers: Ice Cube, E-40, Too $hort, and Snoop Dogg. These four were pioneers and innovators of hip-hop on the West Coast over the last 30+ years. They also collectively represent a large swath of the Golden State with E-40 and Too $hort hailing from the Bay Area, and Snoop and Cube representing Los Angeles. The group released their debut album, Snoop, Cube, 40, $hort, on December 9th, 2022. The song "Activated" is from that album and was released on December 1st, 2022 with a music video accompanying it.
The Doggfather makes his entrance.
The song features a very West Coast beat that harkens back to 90's G-Funk style beats. It even has a Roger Troutman-like talk box vocal sample at the beginning. Ice Cube starts with an intro that then leads into his verse. We next get a Too $hort verse and then an E-40 verse. Finally, the big Snoop D-O-Double G comes in to close it out. Each rapper has their own style and they showcase that style well on each of their verses. As far as content goes, they're really not breaking any new ground here with what they are saying, and unfortunately, there really isn't any interaction between the four on the track. They do their verses and then leave. It kind of leaves you wanting more from the supergroup.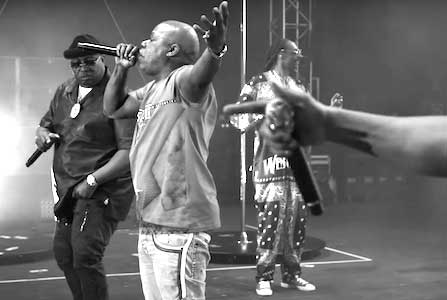 How the West was won.
The video takes place backstage and on stage at a Mount Westmore concert. We see all four rap icons heading to the stage and sitting on thrones. The thrones rise through the stage floor and the show begins. The video focuses on each member through their respective verses beginning with Cube, then going through $hort, 40, and Snoop. We see that both Snopp and Cube are wearing chucks during the show, which fits as they've both been long-time wearers of chucks. We also see all four performing their arts both on stage and through the halls of the venue. There are shots of excited fans and dancing girls, while the whole thing is filmed in black and white. It's a pretty simple video that's straight and to the point, focusing on the presence of the four legends.
Cube and Snoop both wear chucks in this video.
| | |
| --- | --- |
| | If you have information about specific videos where chucks make an appearance, please contact us at mail@chucksconnection.com. |
Lace up a pair of black high top chucks for your music video.