"Lost Without You" by Fly By Midnight
Fly By Midnight is an indie pop group from New York city comprised of Justin Bryte and Slavo. The duo recently made the migration to sunny Los Angeles to pursue their futures, which led to the recording and release of their album, Silver Crane. Before this, they released an EP titled Plus One on February 19th, 2021. The song "Lost Without You" was released on July 24th, 2020, and features Swedish singer Clara Mae.
Fly By Midnight and Clara Mae are lost without each other.
This song is for the most part a true blue duet between Justin Bryte of Fly By Midnight and Clara Mae. Justin starts out the verse and Clara comes in after a few lines. They trade vocals back and forth through the first verse and pre-chorus and finally sing in sync together with Slavo during the chorus. This back-and-forth structure actually accentuates the song's message about being lost without your significant other post-breakup. They're completely in sync as any couple that's been together for a long time would be, but they're clearly emotionally apart based on the lyrics. This is just a great way to put everything together from a songwriting perspective. Clara Mae's vocals also fit really well with Fly By Midnight's.
Justin Bryte wears classic optical white chucks in this video.
The music video begins in the desert where Fly By Midnight are walking across the barren landscape. Justin is wearing optical white chucks that go well with his white Lana Del Rey tee shirt. On a giant old-school TV that is also in the desert, Clara Mae appears. She is alone in a house somewhere far away from Fly By Midnight. Her scenes play as Fly By Midnight performs around the television. This setup illustrates the distance between them even though the duet has them performing and singing in sync with one another. Clara ends up moving to an empty road surrounded by a lush green forest. She appears to be lost where she is, and this along with Fly By Midnight being lost in the desert, shows how they are each lost without the other. This is a simple but effective video that demonstrates the message of the song really well while allowing the performers to perform in a natural way.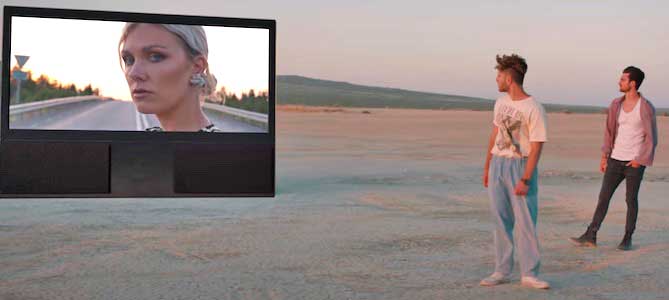 Separated by a TV screen.
| | |
| --- | --- |
| | If you have information about specific videos where chucks make an appearance, please contact us at mail@chucksconnection.com. |
Lace up a pair of optical white high top chucks for your music video.