"Lovely" by Fly by Midnight
Fly by Midnight is an indie pop group from New York City comprised of friends Justin Bryte and Slavo. The duo recently moved to Los Angeles to further pursue their music dreams, and this led to the recording and release of their album, Silver Crane. Rising fast over the last few years, this duo has a bright future ahead of them. The song "Lovely" was released on February 19th, 2019, and features guest vocals from Australian singer Betty Who.
Betty Who wears chucks in this video.
The song begins with Slavo singing the first verse, recounting a night of driving with his significant other in the passenger seat. Justin Bryte then comes in on the chorus with a very simple hook of "You're so lovely". However, it is, unfortunately, an unrequited love as he ends the chorus with "I wish you'd love me". Betty Who then comes in for verse two and sings about the fleeting moment they shared and the one drunk kiss she can't quite forget. All three then hit the chorus and the bridge as the song ends with one final chorus. It is a very simple song, with not a lot going on lyrically or musically. However, the repeated chorus is pretty catchy.
: "Be runnin' up that road, Be runnin' up that hill".
The video starts in the golden hour as the title flashes on the screen and Slavo walks into the frame. He's walking up a hill as he sings the first verse when the camera pans around to reveal Bryte as the chorus comes in. When the chorus finishes, the camera pans around again to reveal Betty Who joining them and wearing white high top chucks for this hike. She sings her verse as they all continue to make their way up the hill. As the bridge kicks in, they run up the final stretch, reaching the top for the final chorus and outro. This video is a simple production that fits with the simplicity of the song. The most notable aspect is the fact that it appears to have been shot in one take. It's hard to tell whether or not this was a true one-take or a simulated one-take with cuts on the pan arounds, but whatever the case the effect is really effective. The other highlight is the golden hour view of the Los Angeles skyline, which is just gorgeous. Overall, a serviceable video for a serviceable song.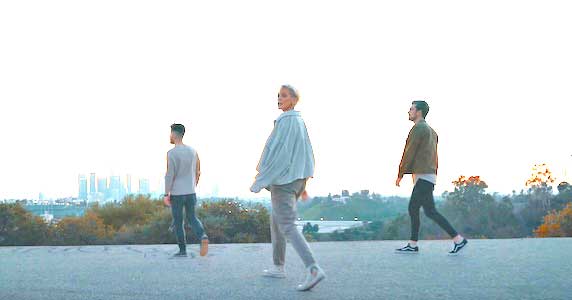 The LA skyline at golden hour is a sight to see.
| | |
| --- | --- |
| | If you have information about specific videos where chucks make an appearance, please contact us at mail@chucksconnection.com. |
Lace up a pair of white high top chucks for your music video.