"Not Today" by Alessia Cara
Alessia Cara has proven to be one of the brightest and best-selling musicians of her generation. A gifted songwriter that, at the age of 26, has already released three critically acclaimed albums. Her hits include "Here", "Wild Things", "1-800-273-8255", "How Far I'll Go", and "Trust My Lonely". The song "Not Today" is the second track and single from her sophomore studio album, The Pains of Growing, and was released on November 13th, 2018.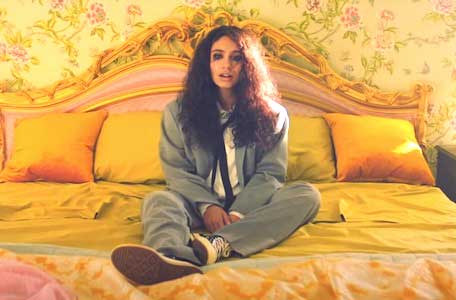 Alessia Cara's grey suit and black chucks beautifully contrast with this house.
The song was one of the last written for the album and may be one of Cara's most personal. She revealed on Twitter that she wrote the song's lyrics while she was "feeling miserable and realizing it was okay to bask in it until I was ready to try happiness again." She also said that "it's about capturing that in-between phase, and reminding myself that things do get better but it's okay to just say 'You know what? Not today. Today I need to be in bed, I need to be sad, and just throw myself a pity party'". Alessia was really able to capture this perfectly as the lyrics and vibe of this song really feel like what it feels like to be stuck in that time before it gets better. It's ok to not be ok and that's a beautiful message we can all take to heart.
Cara's chucks really suit her suit.
The video opens on Alessia's face and we see her smeared makeup and mascara streaking down her face. The camera slowly backs away from her and we see she's sitting on a brightly colored bed. This was filmed and released during Alessia's suit era, so she is wearing her oversized suit with her black chucks. However, her suit, much like her makeup, is also a mess as it's frumpled and wrinkled. She eventually leaves her bed but continues to wander alone through the house. She dances, eats, tries to put together a puzzle, and tries to put on a smile. However, none of these things erases the emptiness inside her, and the video ends with her crying in the shower and then going back to bed. She resigns to the fact that she won't be okay today. This is a beautiful video from the visuals to the story it tells. The brightly colored house contrasting with Cara's disheveled grey suit perfectly showcases how depression isolates you from the world around you. Cara trying to get out of her depression by doing things around the house and even trying to smile, but in the end deciding "not today" is a perfect way to show the message of the song. You will be ok, even if you aren't today.
"Yea no not today."
| | |
| --- | --- |
| | If you have information about specific videos where chucks make an appearance, please contact us at mail@chucksconnection.com. |
Cheer yourself up with a new pair of black high top chucks.