"See You Later" by Alexander 23
Alexander 23 (real name Alexander Glantz) is a 28-year-old singer, songwriter, and producer from Deerfield, Illinois. Since making his debut in 2019, he has worked with some of the biggest artists in music today. This includes Olivia Rodrigo, John Mayer, Selena Gomez, Tate McRae, Charlie Puth, Reneé Rapp, Jeremy Zucker, and mxmtoon. He has also accumulated hundreds of millions of streams on Spotify for his own music. His song "See You Later" is the sixth single from his first EP, I'm Sorry I Love You. The track was released on October 16th, 2019 with a music video.
Alexander 23 wears black high top chucks in this video.
No one ever wants to say goodbye to those they love. Love changes you and letting that go is one of the hardest things we as humans have to do. This song is about not wanting to give that final goodbye to someone you have loved. Instead, Alexander would rather just say "See You Later". However, deep down he knows that this is it. His life is taking him in a different direction and he can't take her with him. Even though he can see a life with her, he says goodbye.
When is a goodbye not a goodbye?
The music video starts with Alexander in a completely orange room. Literally everything from the plants to the books is orange. He, however, is dressed in a dark blue suit with black high top chucks on his feet. This outfit really makes him stand out as not belonging in this room; he clearly doesn't want to be in it. He opens his suitcase and slowly unpacks as he looks despondent. Outside the windows, there are some amazing digital visuals of nature that help highlight how isolated Alexander is in this orange room. He is then set in what appears to be an empty black room, surrounded only by floating picture frames that show different scenes from life. The camera pulls away from the orange room to show how fast the world outside is moving, all while Alexander sits alone. This is a very visually interesting video that also shows how isolated and alone Alexander is after saying goodbye.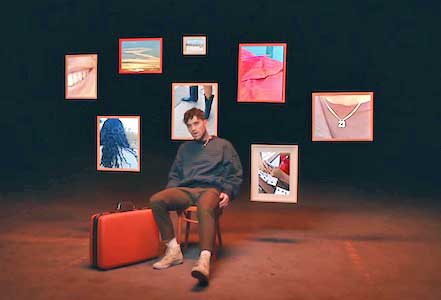 Alexander wears natural white high top chucks in the scenes where he is surrounded by portraits of life
| | |
| --- | --- |
| | If you have information about specific videos where chucks make an appearance, please contact us at mail@chucksconnection.com. |
Don't ever say goodbye to your pairs of high top chucks.