"October" by Alessia Cara
Every time Alessia Cara puts pen to paper you know that her lyrics will come from the heart. Over the years, she has proven time and time again that her music is full of emotion and soul, and this has been recognized by fans as she has been one of the best-selling musicians of her generation. At the age of 26, she has already released three critically acclaimed albums, and her hits include "Here", "Wild Things", "1-800-273-8255", "How Far I'll Go", and "Trust My Lonely". The song "October" is the last song and second single from her live album, This Summer: Live off the Floor, and was released on September 3rd, 2019.
Alessia Cara wears black chucks in this music video.
"October" is the last song of This Summer and is named after a month that is considered to be the end of the summer. The month also marks the end of Alessia being on the road with Shawn Mendes which was when she wrote the song. In an interview, she revealed that the song was "about my experience of [Shawn Mendes'] tour and making new friends and stuff." This song perfectly captures that feeling of knowing you're in the best times of your life and not wanting it to be over. The simple line on the chorus of "I'm gonna miss this when it's over" has so much weight around it and really hammers this home. The song is reflective and serves as a beautiful tribute to her friends and experiences.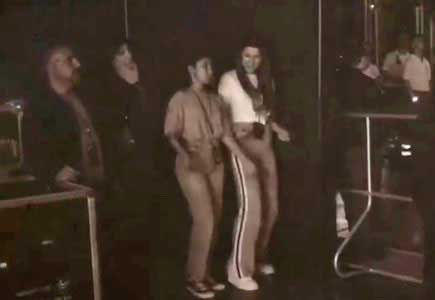 This video employs a film grain aesthetic to make it look like a classic home movie.
The video is a compilation of video diaries from the aforementioned tour with Shawn Mendes. It shows the bonding between Alessia and her crew. We see them have fun, put on shows, explore cities, and just genuinely look like a family together. Alessia wears chucks frequently in this video because she wore them frequently on the tour. This tracks with everything we've seen from her from a style perspective as she has worn chucks a lot over the years. These images combined with the song's lyrics and Alessia's reflective tone in her vocals create such a moving portrait of found family and the best part of being a musician. Such a simple but effective video for a beautiful song and tribute to her friends.
Chucks on the pavement.
| | |
| --- | --- |
| | If you have information about specific videos where chucks make an appearance, please contact us at mail@chucksconnection.com. |
Make your chucks part of your good times.