"Nothing's the Same" by Alexander 23 and Jeremy Zucker
Alexander 23 has had quite the rise in his short career. Since making his debut in 2019, the 28-year-old singer-songwriter, whose real name is Alexander Glantz, has worked with some of the biggest artists in music today. His list of collaborators includes artists like Olivia Rodrigo, John Mayer, Selena Gomez, Tate McRae, Charlie Puth, Reneé Rapp, and mxmtoon. His own music has accumulated hundreds of millions of streams on Spotify with hits like "IDK You Yet" and "Ain't Christmas". His song "Nothing's the Same" is a collaboration with fellow singer-songwriter Jeremy Zucker and is the fourth single off his second EP, Oh No, Not Again. It was released on December 16th, 2020 with a music video.
Alexander 23 wears black chucks in this video.
The song has a simple acoustic arrangement that fits really well with both their voices. The song is a reflective and melancholy telling of life during the original COVID-19 Pandemic lockdown and quarantine. The duo have some ethereal harmonies that really complement each other well, and nail the vibe of the song. Looking back on this in a post-pandemic world, the song is unfortunately very effective at taking one back to those terrible early months of lockdown.
Feet up cause what is time anymore?
The video begins with Alexander and Jeremy waking up alone in their rooms. They begin their day by checking their phones and brushing their teeth. We see that they're living together. They are both stone-faced and it looks like the life has been drained out of their eyes. They continue to go through their day but something is off. There are cuts where objects around or on them change such as coffee cups being held or clothes being worn. Alexander wears chucks in most of the video which is one constant. It becomes evident that these two are quarantining together and that the cuts and subtle changes are meant to highlight how little things change when on lockdown and how the days just seem to blend together. This video perfectly shows the slow descent into madness that we all experienced during quarantine. Reality starts to break down and we can all relate to that.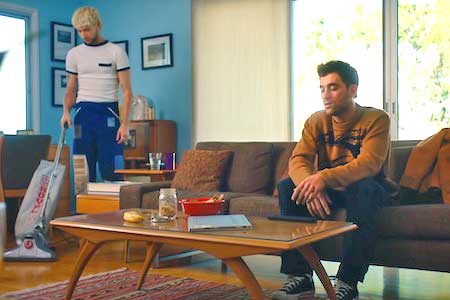 Feels like we've been here before.
| | |
| --- | --- |
| | If you have information about specific videos where chucks make an appearance, please contact us at mail@chucksconnection.com. |
Get yourself a pair of chucks to brighten up your days.