"Live While We're Young" by One Direction
One Direction was a British boy band that dominated the 2010s. They were huge and pretty much single-handedly revived boy bands after the boy band explosion of the early 2000s. "Directioners" catapulted all the members to superstardom, and everyone had their faves. Harry, Niall, Liam, Louis, and Zayn have all gone on to have great careers since Zayn's departure and the group's hiatus, but fans still remember all the hits they released during their time together. The song "Live While We're Young" is the lead single off their second studio album, Take Me Home. The song debuted at #3 on the Billboard HOT 100 and went on to become one of their biggest songs ever.
Liam wears white high top chucks in this video.
The song is an up tempo and upbeat bubblegum pop song that features some rock elements. It showcases the vocal harmonies between the boys and also uses hand claps, electric guitar riffs, and synths to round out the sound. This sound was basically the basis for all of One Direction's early music and was very much trying to appeal to the masses and offer inoffensive, upbeat pop. The opening guitar riff is incredibly similar to the riff from the Clash song "Should I Stay or Should I Go", with only one note in the chord being changed likely in an attempt to avoid paying royalties to Clash.
Air Zayn.
The music video begins with the band waking up in a really big tent. The boys rise out of their sleeping bags and cots and get dressed. Liam has a pair of white high top chucks next to his cot that he wears through the whole video and he starts off the song. The boys are in for a fun-filled day at the camp as they perform the song. They start out playing guitars in a circle then they make their way down to the lake. They spend their time there jumping from a swinging rope into the lake. They then hop into boats and giant bubbles as they skip around the water. The party continues into the night as around a bonfire the boys continue to perform for the whole camp. This is set up to be a very fun and carefree video that just showcases the boy's charisma and charm. It gave fans what they wanted to see and very much set the tone for the summer vibes the song was going for.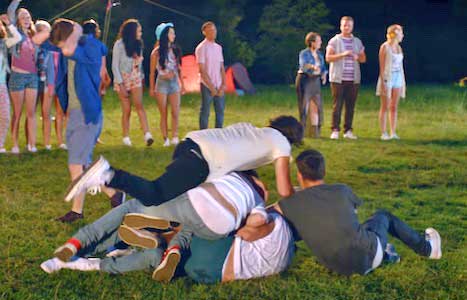 Dogpile!
| | |
| --- | --- |
| | If you have information about specific videos where chucks make an appearance, please contact us at mail@chucksconnection.com. |
Get yourself a pair of chucks to wear for a fun-filled day.