"Stay" by the Kid LAROI and Justin Bieber
The Kid LAROI is an up-and-coming Australian rapper and singer-songwriter. Originally gaining fame for being friends with the rapper Juice Wrld during his Australian tour, LAROI released his own music and gained a following locally in Australia. He made the jump to the international stage with his 2021 collaboration with pop superstar Justin Bieber, "Stay". The track reached #1 on the Billboard Hot 100 and has launched the Kid LAROI into superstardom.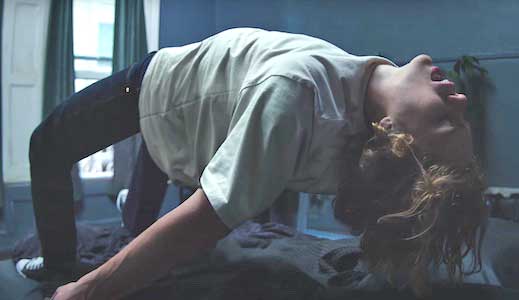 When you need someone to crack your back.
This track is a fast-paced, synth-pop song that strays pretty far from what anyone might consider rap. It is very much in the vein of modern 80s pop that Bieber and other pop stars like The Weekend have been doing over the past few years. LAROI actually fits into this style of pop music really well, which, if we go off the recent history of "rappers", means that he will likely fully fall into this style of music in the future. The song is about begging someone to stay in a toxic relationship with you. Acknowledging that they are both at fault for their transgressions, Bieber and LAROI croon very well and really make this a catchy song.
Chucks will have you levitating if you're not careful.
The video opens with a close-up of Kid LAROI's ears which have Beats Studio Buds in them. We see a crumpled-up picture as the camera spins around the room, eventually landing on LAROI suspended in mid-air. He's dressed in all black and white: black jeans, a white shirt, and black and white high top chucks. It becomes apparent that the world is frozen in time just as LAROI unfreezes and starts moving through his apartment. He pours coffee and slowly ramps up his movements as he starts floating to the door. Now firmly back on the ground, he walks past his neighbors standing in their doorway and ends up in the middle of the street. He dances his way down the street as the camera swings to the top of a nearby building where Justin Bieber is also unfrozen. Bieber does his verse and eventually joins LAROI in what appears to be a bank. The video ends with LAROI looking longingly at the girl who was in the crumpled-up picture with him at the beginning. The frozen-in-time visual is really cool but it has been done quite a few times in recent years. Otherwise, this is a pretty standard music video.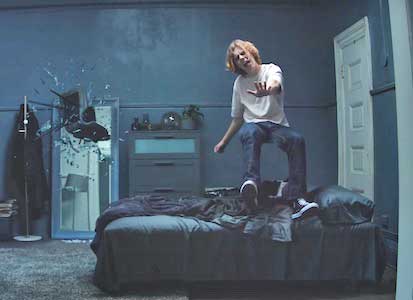 Stop throwing chairs already!
| | |
| --- | --- |
| | If you have information about specific videos where chucks make an appearance, please contact us at mail@chucksconnection.com. |
Get yourself a new pair of chucks to wear for your frozen-in-time video.